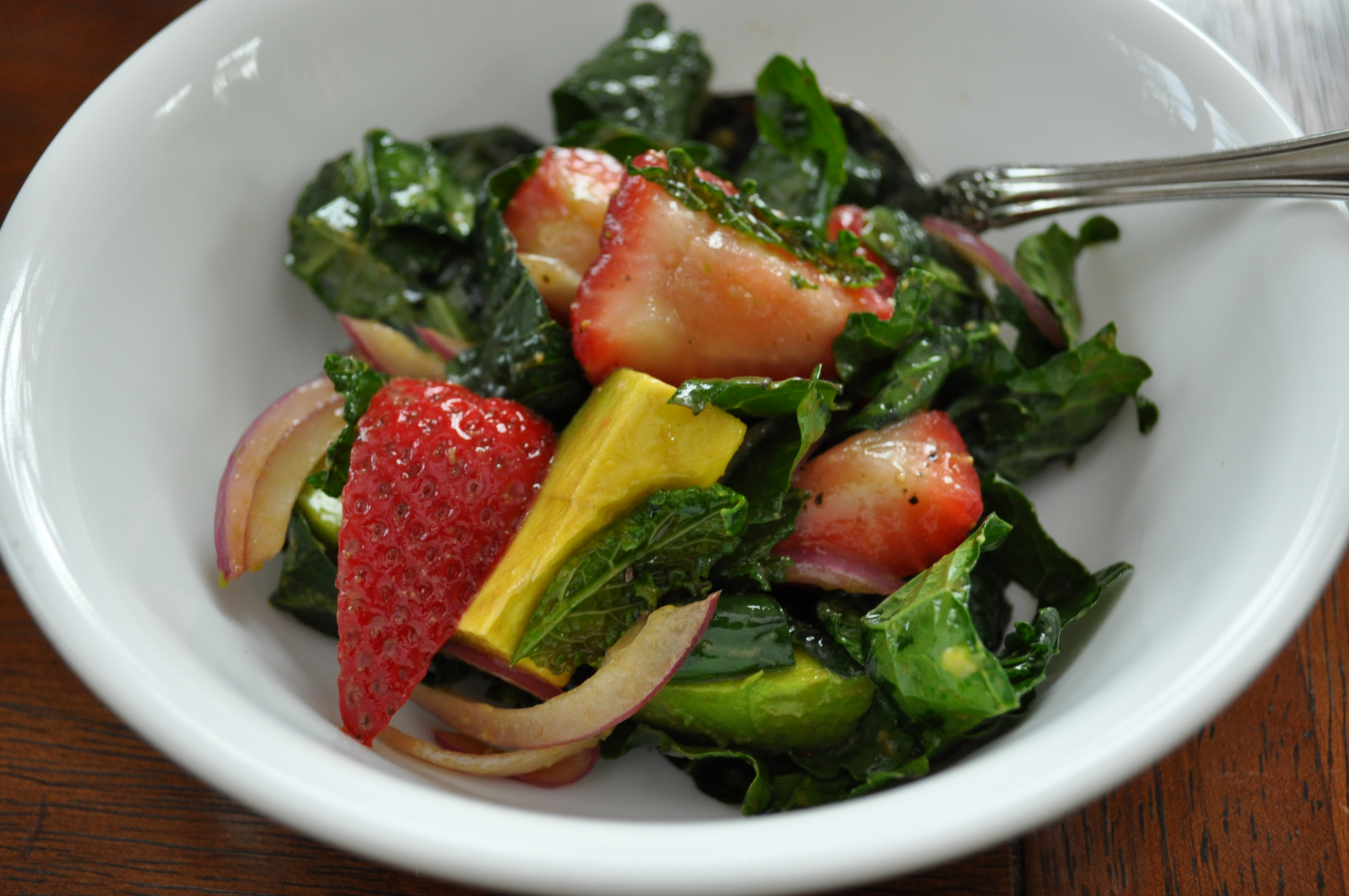 Kale, Strawberry and Avocado Salad
Looking for a fresh take on your old kale salad?  This tasty dish has the best elements of Spring: sweet strawberries and creamy avocado paired with crispy red onions and savory pistachios.  If you haven't tried a massaged kale salad, this is a good excuse to give it a whirl.  Massaging the kale with a little salt and olive oil – just for a few minutes – improves the flavor and wilts the kale slightly so that it's tender.
Strawberries and balsamic vinegar enjoy each other immensely, so I thought I'd use a nice balsamic vinaigrette, which also has the nice benefit or mellowing out the onions so that they're also sweet and crisp.  If you've been buying your salad dressing from the store you might be amazed at how simple and fast this dressing is – it literally takes about 30 seconds to whisk together!
Thanks to generous amounts of avocado and pistachios, this salad is substantial and filling enough to serve as a light main dish at lunch or dinner.  It also makes a lovely side dish to a little roasted or grilled fish.  Get more great recipes in my new cookbook here.  And definitely come on over and like us on Facebook!
Enjoy and Eat Happy!
Kale Salad with Avocados, Strawberries and Balsamic Vinaigrette
From Eat Happy Meal Plan
Total Prep Time: 15 minutes
Active Prep Time: 15 minutes
Ingredients
2 ripe avocados, pits removed and cut into ¾ inch cubes
2 cups fresh strawberries, stems removed and quartered
½ red onion, thinly sliced
½ cup [...]