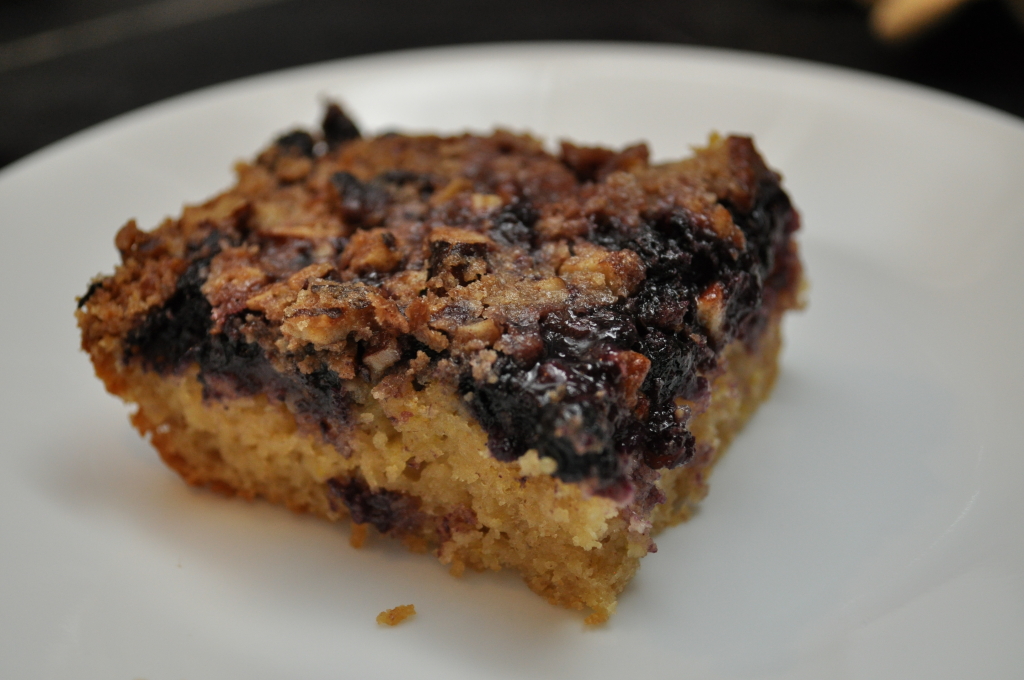 A nice slice of blueberry brunch cake
I'm ringing in the new year with something old – my mom's Oregon Blueberry Brunch Cake.  My mom would make this for us frequently when my sisters and I were growing up living in Oregon.  We'd pick mountains of blueberries in the summer and freeze them to use throughout the coming year.  This was hands-down my morning favorite.
Of course I adapted it a little – just a smidge.  I used oat flour – my favorite gluten-free flour, and just a tiny bit of all-purpose gluten free flour mix to help with stability.  I used maple syrup in the cake instead of sugar, and real butter instead of oil.  And I used my favorite wild blueberries, which are now widely available in grocery stores.
The result was simply fantastic.  And you would NEVER – I swear to you – NEVER know this is gluten free.  You would also not guess that it's almost entirely a whole grain cake.  That's the fantastic thing about oat flour – it doesn't have any of that cardboard-like flavor of whole wheat.  It's sweet, and bakes up to be soft like white flour – not grainy.  But, as you can (kind of) see from the picture, it will have a golden color, and in this cake has an almost graham-y flavor.
I implore you to make this brunch cake.  You will be happy that you did.
Oregon Blueberry Brunch Cake
Oregon Blueberry Brunch Cake
Ingredients
1 cup oat flour
1/4 cup all-purpose gluten-free baking flour (I used Better Batter because that's what I had on hand)
1/2 tsp baking powder
1/2 tsp salt
1/4 cup honey
1 egg
1/2 cup whole milk*
1/3 cup melted butter*
1 Tablespoon lemon juice
1 cup wild blueberries
1/4 cup organic cane sugar
1/4 oat and/or sorghum flour (I used a couple tablespoons of each)
1/4 tsp cinnamon
1/2 cup chopped pecans or walnuts
2 Tablespoons butter*
Directions
Pre-heat the oven to 375 degrees.
Whisk together the first 4 ingredients in a large mixing bowl.
In a smaller bowl, whisk together the next 5 ingredients (honey through lemon juice) until very well combined, then fold into the dry ingredients until everything is well moistened.  Pour the batter into a greased 8 x 8 baking dish.
Sprinkle the blueberries across the top of the batter.
Stir together the cane sugar, 1/4 cup oat/sorghum flour, cinnamon, and chopped nuts.  Break the remaining 2 tablespoons of butter into small pieces and mash them into the sugar mixture, either by hand or with a pastry blender, until the mixture is combined and lumpy.  Spread this over the top of the blueberries.
Place in the middle rack of the oven for about 40 minutes, until a toothpick inserted in the center comes out clean.  This is best if you let it rest for 15 minutes or so before serving.
*Dairy-free adaptations: use coconut oil instead of butter, and whatever non-dairy milk you like
Happy New Year and cheers to Eating Happy in 2014!