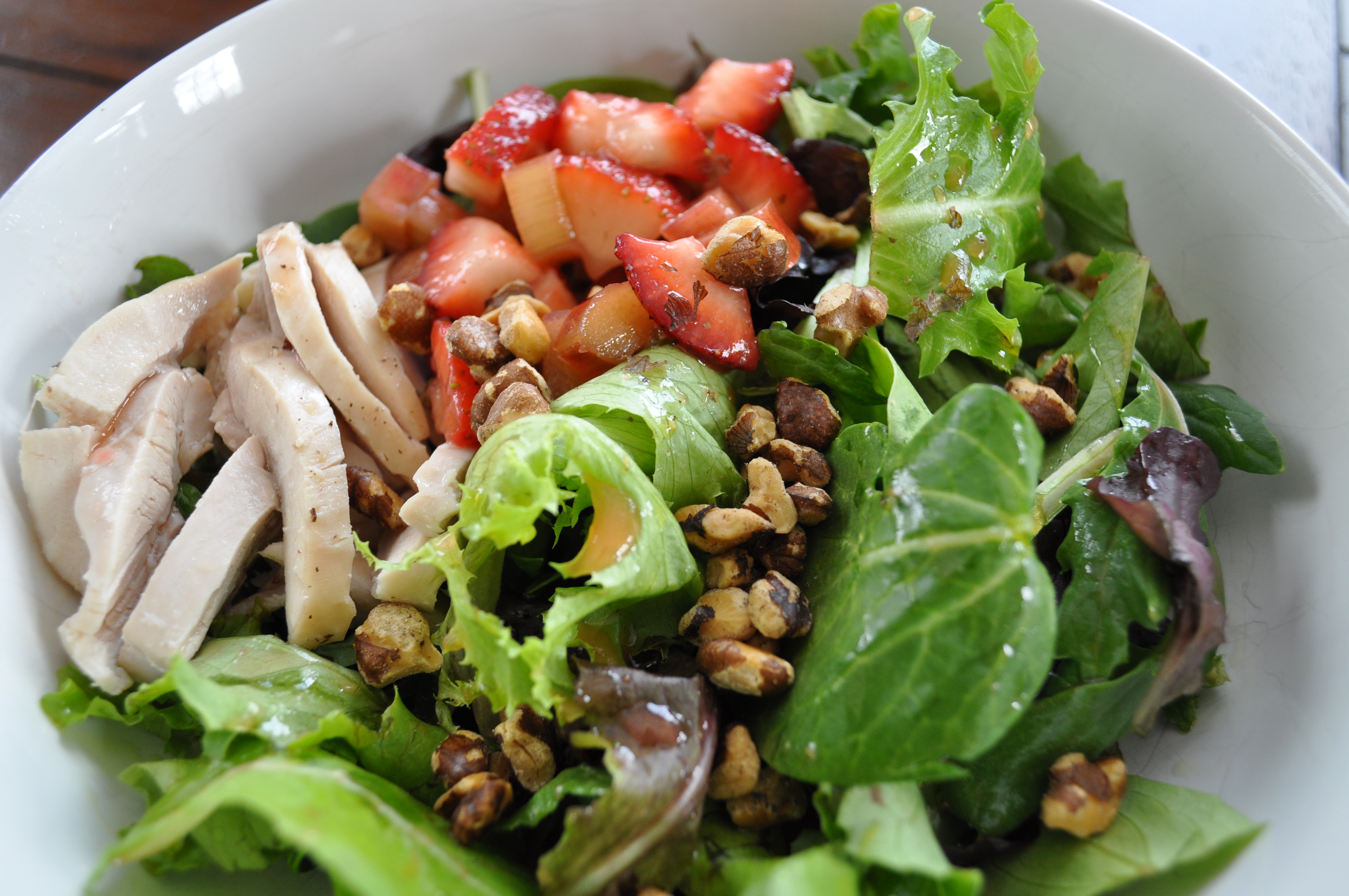 Strawberry Rhubarb Spring Salad with Hazelnuts and Poached Chicken
Spring brings out my obsession with all things Strawberry Rhubarb.  Strawberry rhubarb pie was my favorite growing up (ok, one of my favorites, I mean apple and pumpkin are favorites too.. but definitely my favorite spring pie!), but anyways these days – although I still love pie – I also look to get my fix of the beautiful combo in other food applications.
This past week I was thinking of a nice light salad.  A little sweet, a little tart and citrusy, but still filling enough to make it a meal.  What I ended up with is a convenient little dish, in which strawberries and rhubarb marinate together in citrus juices for a bit (while you're poaching some lovely chicken), creating a sauce that works as a dressing for your salad greens.  The orange and lime juices soften the raw rhubarb and the honey adds just enough sweetness to make the rhubarb delightfully tart.  It's also lovely with a little goat cheese, although that's certainly optional.
(A note: eating raw rhubarb is cool – it's the leaves that are toxic – they're typically not even attached when sold, but just be sure not to eat them).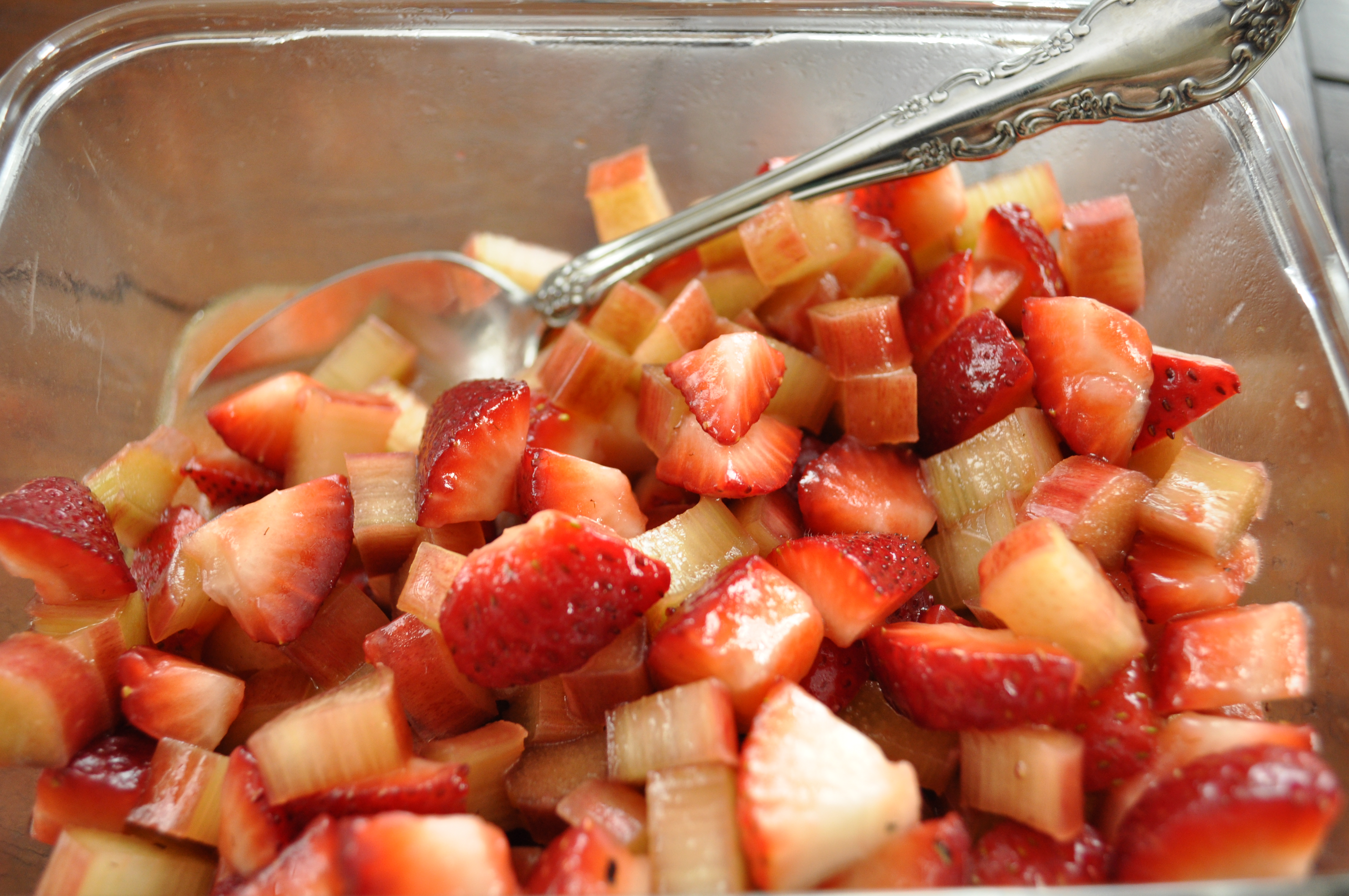 Strawberry Rhubarb Compote
And if you've never poached chicken do not fear.  You're literally boiling it in water so it's about as basic and fast as it comes – you can make it fancy by adding a little wine or vinegar, bay leaves, a smashed garlic clove, wedge of onion, or whatever.  Either way you're boiling it and it results in nice, moist chicken.
Poaching Chicken, Before Adding Water or Wine
Strawberry Rhubarb Spring Salad with Hazelnuts and Poached Chicken
From Eat Happy Meal Plan
Total Prep Time: 30 minutes
Active Time: 15 minutes
Serves: 4
Ingredients
3 cups fresh strawberries, stems removed and quartered
2 cups fresh rhubarb, diced small – from 1-2 stalks (do not eat leaves)
1 orange, juiced
Juice from 1 lime, about 1 tablespoon
2 tablespoons honey
½ cup hazelnuts, toasted
5 ounces fresh baby spinach leaves or mixed salad greens
2 boneless and skinless chicken breasts
Optional: ½ cup white wine or 1 tablespoon white wine vinegar
4-6 ounces of goat cheese, optional
Extra virgin olive oil (EVOO), sea salt, freshly cracked black pepper
Directions
1. Whisk together the orange and lime juices, honey, pinches of salt and pepper, and 2 tablespoons of EVOO. Toss with the diced rhubarb and strawberries along with pinches of salt and pepper and set aside – the rhubarb and strawberries will soften as they marinate and create a sauce.
2. Poach the chicken breasts: place them in a saute pan or large pot that has a lid so that they are in a single layer against the bottom of the pan. Sprinkle with a teaspoon of salt and some fresh black pepper. Throw in a bay leaf if you have one and the wine/vinegar. Then cover the chicken by 1 inch with fresh water. Bring the water to a simmer, then cover and cook for about 8-14 minutes until the chicken is cooked through (chicken will register 165 degrees with a meat thermometer in the center, and no longer be pinkish in the center, cooking time will depend on the size and thickness of the breast). To ensure moist and tender chicken, make sure your water remains on a low simmer – a heavy boil could result in tough chicken. When cooked through place the chicken on a cutting board and allow to cool for 5-10 minutes before slicing.
3. When ready to serve, toss the spinach or greens with a little EVOO then top with the rhubarb mixture, chicken, and hazelnuts.  Drizzle the whole salad with some juices from the strawberry rhubarb mixture and enjoy!