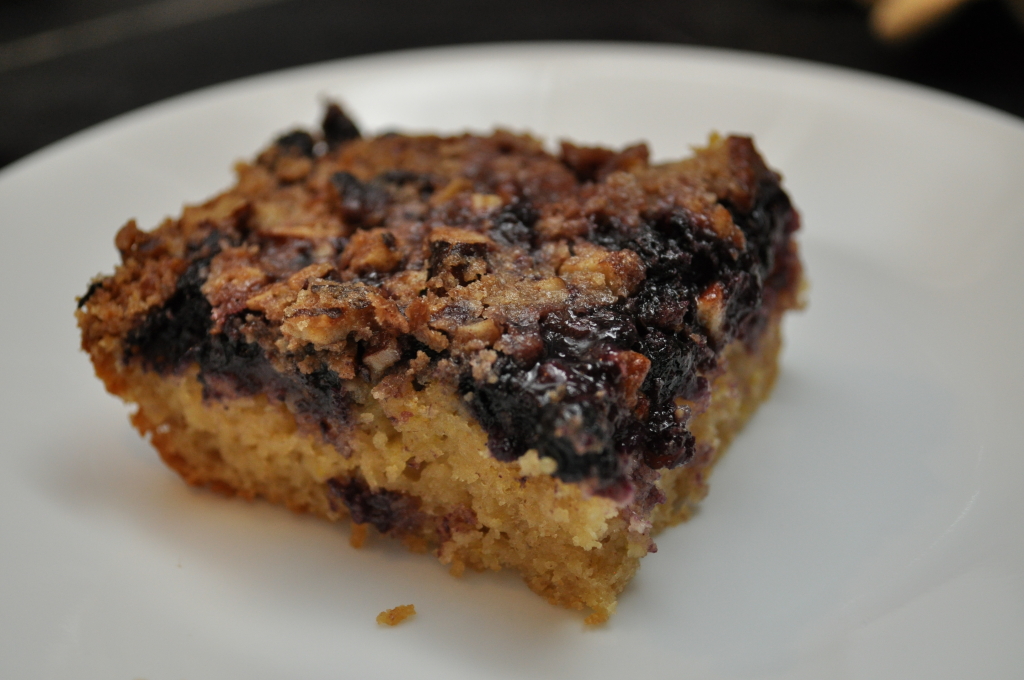 A nice slice of blueberry brunch cake
I'm ringing in the new year with something old – my mom's Oregon Blueberry Brunch Cake.  My mom would make this for us frequently when my sisters and I were growing up living in Oregon.  We'd pick mountains of blueberries in the summer and freeze them to use throughout the coming year.  This was hands-down my morning favorite.
Of course I adapted it a little – just a smidge.  I used oat flour – my favorite gluten-free flour, and just a tiny bit of all-purpose gluten free flour mix to help with stability.  I used maple syrup in the cake instead of sugar, and real butter instead of oil.  And I used my favorite wild blueberries, which are now widely available in grocery stores.
The result was simply fantastic.  And you would NEVER – I swear to you – NEVER know this is gluten free.  You would also not guess that it's almost entirely a whole grain cake.  That's the fantastic thing about oat flour – it doesn't have any of that cardboard-like flavor of whole wheat.  It's sweet, and bakes up to be soft like white flour – not grainy.  But, as you can (kind of) see from the picture, it will have a golden color, and in this cake has an almost graham-y flavor.
I implore you to make this brunch cake.  You will be happy that you did.
Oregon Blueberry Brunch Cake
Oregon Blueberry Brunch Cake
Ingredients
1 cup oat [...]