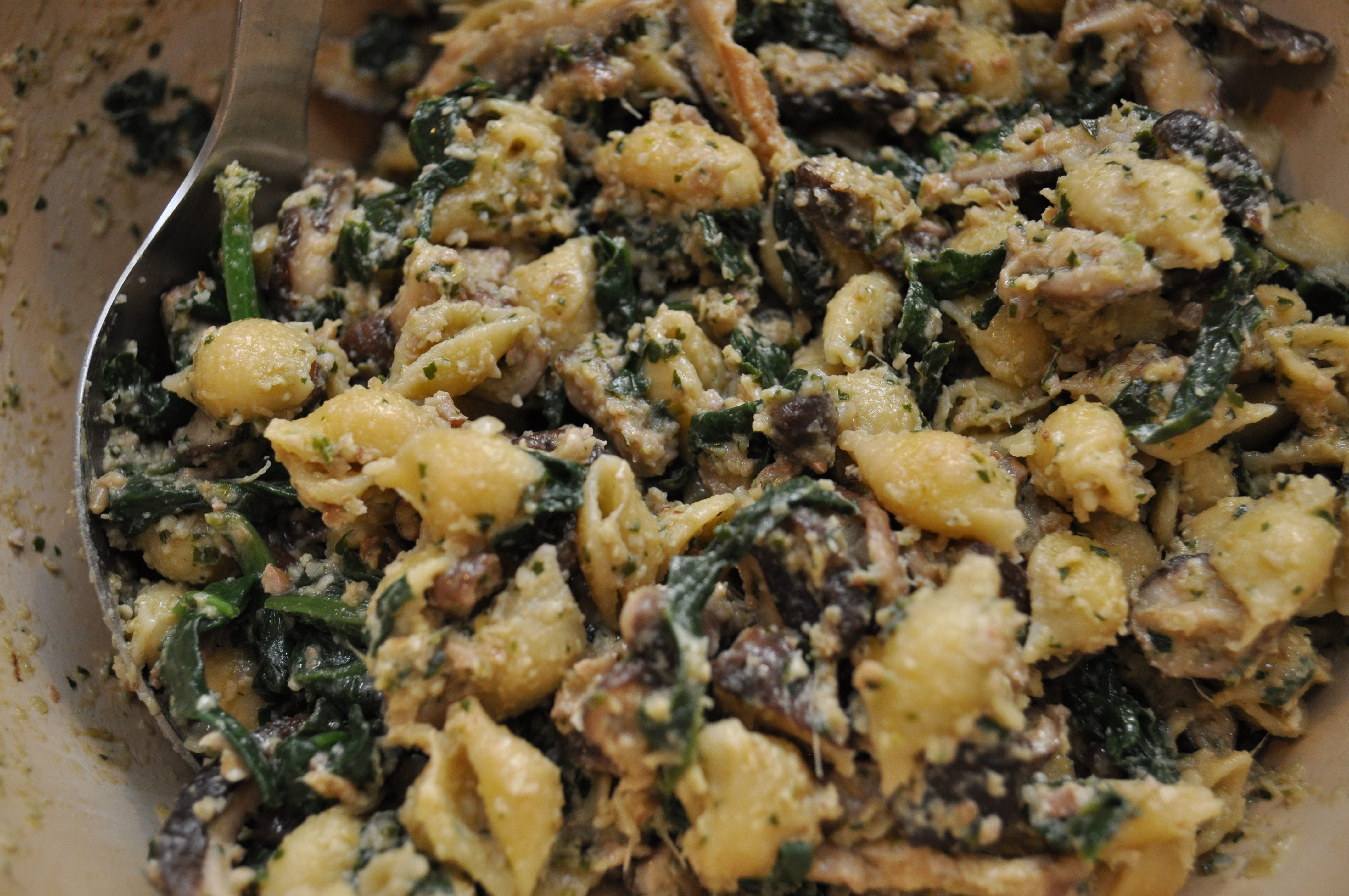 Artichoke pesto on pasta shells with sauteed spinach and mushrooms
In thinking of some ways to use Spring's first exciting produce items, namely artichokes and asparagus, I decided to try an artichoke pesto recipe.   I'm glad I did because I liked it as much if not more than regular pesto (which I love)- definitely more on pasta.  It has more body to really coat the pasta, and the tang of the artichokes was a really nice complement to the unami of the pecorino romano and sauteed mushrooms.  And dang, it was easy!
This is a great recipe to make in advance, because it truly does taste better after it sits and the flavors meld for a bit.  Unlike basil-based recipes the pesto won't discolor, so no worries there.  And with this sitting in the fridge you'll have a lightning-fast dinner ready in no time!  It's just a bonus that your pasta sauce basically contains a servings worth of vegetables.
I adapted a recipe from Giada DeLaurentiis, whose recipes I find to be lovely and approachable.  You could certainly use this pesto as an appetizer or side, as she does by putting it on crostini.  I also used it to top some poached salmon, which was super, super delicious.
For more great health-boosting recipes and time-saving shopping lists and weekly planners be sure to check out the Eat Happy Meal Plan.
Here's the recipe for the pesto:
Artichoke Pesto
Adapted from Artichoke Pesto on Ciabatta, Giada De Laurentiis
Total Prep Time: 15 minutes
Active Time: 10 minutes
Serves:  4
Ingredients
8 ounces of frozen artichoke hearts, thawed (can sub jarred artichoke hearts preferably in glass)
1 cup fresh parsley leaves
½ cup toasted walnuts pieces
Juice and zest from 1 lemon
1 clove garlic
2/3 cup grated parmesan or pecorino romano cheese (if you eat vegan, try using nutritional yeast instead)
Extra virgin olive oil (EVOO), sea salt, freshly cracked black pepper
Directions
Place the artichokes, parsley, lemon juice and zest, garlic, and ½ teaspoon each of salt and pepper in a food processor.  Process the ingredients until the ingredients are finely and evenly chopped.  Add about ½ cup of EVOO while the food processor is running.
Add the walnuts.  Pulse them until they are ground to your liking – if you like a very fine pesto you can let it run longer, vs. if you prefer a little crunchy texture you can pulse them only roughly.
Remove the pesto from the food processor and place in a bowl.  Stir in the parmesan cheese.
For best results let the pesto sit, covered in the fridge for at least an hour before serving to allow the flavors to develop and meld.
And here's all I did to throw together a quick Artichoke Pesto Pasta with Sauteed Spinach and Mushrooms:
10 ounces dried pasta (I used gluten-free corn/quinoa, but use what you like)
1 lb oyster mushrooms, torn or chopped into bite-sized pieces
1 tsp minced garlic
1/2 lb fresh spinach
Cook the pasta per package instructions to al dente.  Reserve about 1 cup of the cooking liquid before you drain the pasta.
Saute the mushrooms in a little EVOO and a pinch of salt over medium-low heat until tender and they begin to lightly brown.  Add the spinach and garlic and a little more salt and saute until the spinach has just barely wilted, about 3 minutes.
Place the pesto in a large mixing bowl and add about 1/2 cup of the cooking water to thin it.  Add the drained pasta and stir it together with the pesto until coated, adding cooking liquid as needed.  Then gently stir in the sauteed mushrooms and spinach.
Serve warm and Eat Happy!