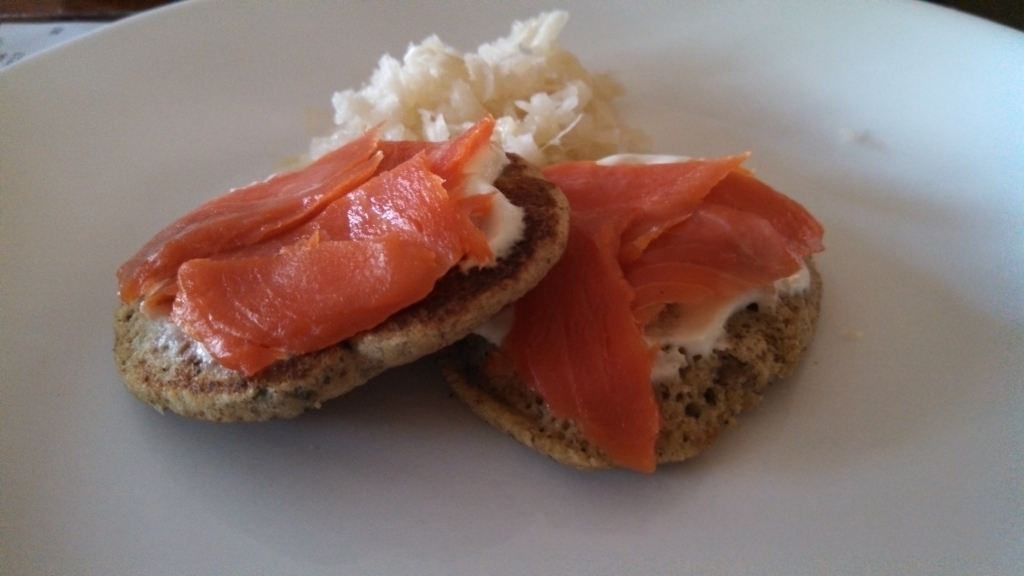 Buckwheat Blinis with Smoked Salmon, Lemon Sour Cream and Sauerkraut
A special sneak-peak from next week's meal plan menu!
I loved smoked salmon well before I knew much about the nutritional benefits of this awesome fish.  It's smoky, salty, buttery, and wonderfully satisfying.  And, it doesn't require any preparation on my part!  I just buy the good wild stuff from the grocery store (which, btw, is so much better than farm-raised, I can't even emphasize it enough).
For a lightning-fast meal you can put smoked salmon on whole grain tortillas or pita pockets, but if you have just a few minutes to whip up a homemade batter, it's especially delicious on these warm buckwheat pancakes.  The nuttiness of the buckwheat pairs beautifully with the smoky salmon and sweet, refreshing lemon sour cream.  I also love the addition of tangy sauerkraut, which boosts the nutritional value of the meal, but if you're not a fan you can always leaves this out, or eat it on the side.
As with most pancakes, the real time investment is in the actual cooking – pouring, flipping, repeat, etc.  But here it all works out, because while you're flipping your pancakes you can mix up the quick lemon sauce, throw together a salad, pour yourself some white wine, or do whatever else you need to do.
If you think smoked salmon on pancakes will make your kids (or husband, or roommate?) look at you like you have lobsters coming out of your ears, never fear: these pancakes are perfect with any number of alternative toppings.  Peanut/almond/sunflower seed butter and jam, thinly sliced corned beef (especially with the sauerkraut!), or fried eggs will all be tasty and easy toppings to add to the mix.
My favorite quality of pancakes, these included, is that they store well and make deliciously portable sandwiches.  Just pop your leftovers into an airtight container until you're ready for them.  They'll last a good 4 or even 5 days.
Have fun and enjoy these yummy pancakes!  If you'd like more recipes like this, with full weekly meal plans, shopping lists, and time-saving planner, check out Eat Happy Meal Plan (formerly No Plan Meal Plan).
Buckwheat Pancakes with Smoked Salmon, Lemon Sour Cream and Sauerkraut
Total Prep Time: 30 minutes
Active Time: 30 minutes
Serves:  4
Ingredients
1 ½ cups pure buckwheat flour
1 cup milk, dairy-free is fine
½ cup water
1 tablespoon honey – raw and local is best
2 eggs
2 tsp baking powder
2 tablespoons minced chives, optional
8 ounces smoked wild salmon, preferably Alaskan
1 cup sour cream or plain Greek yogurt
1 lemon
1 ½ cup sauerkraut, traditionally fermented is best
Butter – grass-fed is best, or high-heat oil such as canola, sea salt, freshly cracked black pepper
Directions
In a medium mixing bowl whisk together the buckwheat flour, baking powder and ½ tsp salt.  In a  large liquid measuring cup or other mixing bowl whisk together the milk, water, honey, and minced chives.  Add the eggs to the liquids in one of the following ways: either add whole, as usual, or separate the yolks and the whites, adding the yolks only to the liquids.  Reserve the whites in a small mixing bowl (these will be beaten and folded in, resulting in lighter, fluffier pancakes).  Combine the dry and wet ingredients to stir well to combine.   If you chose to separate the eggs, beat the whites with electric beaters until light, white and fluffy.  Use a large spatula to fold the white gently into the batter until well incorporated.
Place a large skillet over medium heat and add a tablespoon of butter or high-heat oil.  When the pan is hot (test with a drop of water – when it sizzles and jumps off the pan it is ready), add the batter in 2 tablespoon increments for small pancakes, or ¼ cup increments for large ones.  Cook until bubbles form on the surface of the pancake that do not disappear, about 3 minutes, then flip and cook another minutes until cooked through.  Continue to cook all of the pancakes, adding butter/oil as needed to the pan.
While the pancakes are cooking, whisk together the sour cream, juice from the lemon, and pinches of salt and pepper.  Set aside.
When the pancakes are ready, serve topped with the lemon sour cream, pieces of the smoked salmon, and the sauerkraut.