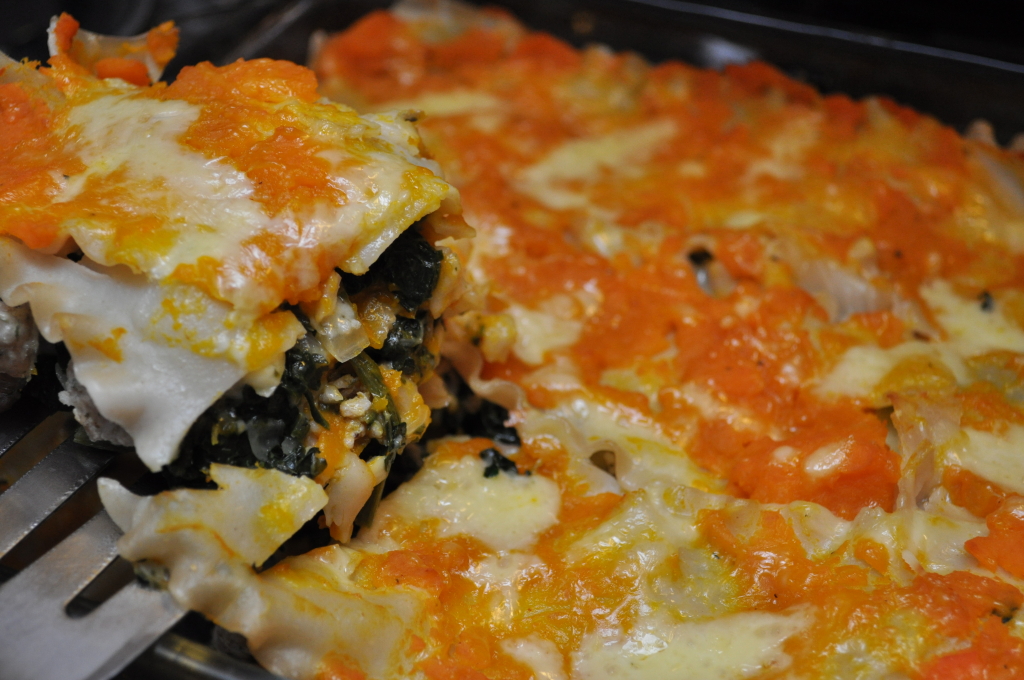 Buttercup and Spinach Lasagna with Cheddar
This is the prettiest lasagna I've ever made. Vibrant orange from the squash alternating with deeply green sauteed spinach. All layered with salty pecorino romano and savory cheddar cheeses.
It's a dish that's equal parts lovely, nourishing and comforting.
Unlike traditional lasagnas, this dish isn't drowning in cheese or heavy sauces. Instead it uses sweet and creamy puree of buttercup squash with just enough cheese to provide a savory compliment. Garlic-infused greens round out the flavors and provide a wealth of nutrients.  It's just as comforting as traditional lasagna, but deceptively light.
To provide a meaty bite you can opt for a little chicken sausage, like I did, or for a vegetarian version some sauteed mushrooms. You can't go wrong either way.
I used gluten-free lasagna noodles, which I under-cooked by about 3 minutes, resulting in perfect texture once the casserole was baked.
Please try it, you'll be glad you did.
Buttercup Squash and Spinach Lasagna with Cheddar
From Eat Happy Meal Plan
Total Prep Time: 1 hour and 30 minutes
Active Time: 45 minutes
Serves: 6-8
Ingredients:
12 large lasagna noodles, preferably whole grain
1 large winter squash (buttercup, butternut, etc), peel and seeds removed,
then cut roughly into 1-inch cubes – this will be about 5 cups of cut squash
1 lb package frozen chopped spinach, or 16 ounces fresh
1 onion, minced
3 teaspoons minced garlic from about 3 cloves
6 ounces high-quality cheddar cheese, hormone-free, shredded
2 ounces grated parmesan or pecorino romano cheese, about ½ cup
16 ounces sliced mushrooms OR 12 ounces of chicken sausage
Extra virgin olive oil (EVOO), sea salt, freshly cracked black pepper
Directions
1. Steam the squash by placing about 1/2 -inch of water in a medium pot with a tight-fitting lid. Place the squash in the pot, bring the water to a simmer, cover and let cook for about 15 minutes until the squash is very tender when pierced with a sharp knife. Mash the squash with potato-masher and season with about ½ tsp of salt and some freshly ground black pepper.
2. Meanwhile cook the lasagna noodles per package instructions.
3. While the squash and noodles are cooking prepare the spinach: place a drizzle of EVOO in a large saute pan over medium heat. Add the onion and saute until tender, about 3 minutes, then add the garlic and saute another minute. Add the spinach and cook until frozen spinach has thawed and most of the moisture has evaporated, or until fresh spinach has wilted. Season the spinach with some salt and pepper to taste..
4. Move the spinach to a bowl and saute the mushrooms or chicken sausage until the mushrooms release their moisture, or the chicken sausage is cooked through. Season the mushrooms with a little salt and pepper.
5. Grease a 13 x 9 casserole dish with a little EVOO. Place a layer of lasagna noodles in the bottom of the pan – you should use about 4 of them. Top with 1/3 of the squash, ½ of the spinach mixture, ½ of the mushrooms or sausage, and 1/3 of the cheeses. Repeat the layers, ending with the final layer of noodles topped only with squash and cheese.
6. Bake the lasagna at 375 degrees, covered for 30 minutes then uncovered for another 15 minutes.
Eat Happy!