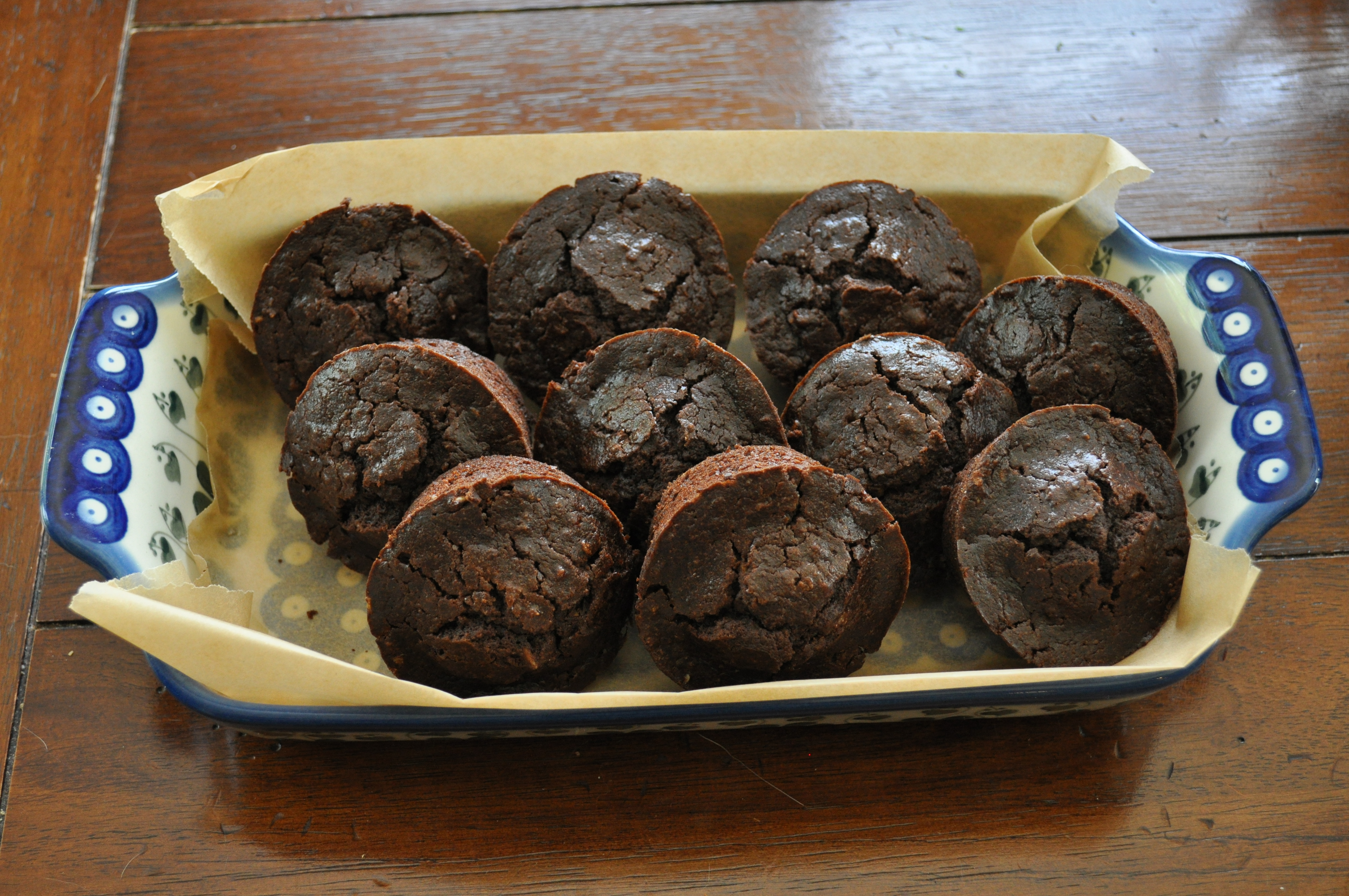 Chocolate Oat Muffins
How about a weekend treat with these Chocolate Oat Muffins for breakfast?  They're verrry chocolatey!  But, not too sweet – chocolate cake this is not.  Rather these muffins are a little more dense, tangy, and filling.  What I love most about these muffins is that they're a treat, but a treat that you won't feel guilty about eating or feeding to your kids, because they're so full of nutritious ingredients.  Unlike a lot of the muffins I make, I actually think these taste best after they've cooled down a bit, so you can make them anytime and enjoy them when you're ready.
The more I bake with alternative flours, the less I miss white wheat flour – it's so unnecessary in quick breads like muffins and pancakes!  The two most dangerous processed foods out there are white flour and sugar, and these muffins don't have any of either.   I use a lot of oat flour so I tend to buy it when it's on sale and keep some in the pantry or freezer.  But you can also make your own using rolled oats – just put them into a food processor and blend until they're a flour consistency.
If you're still transitioning to whole grain flours, you can always use a 50-50 ratio of whole grain flours to white flour, which should work well in most recipes without any other adaptations.  You can also use whole wheat flour, white whole wheat, whole spelt flour, etc.  Muffins are forgiving like that.
Chocolate Oat Muffins
Ingredients:
1 1/2 cups oat flour (can use whole wheat flour or whatever flour you like)
1/3 cup rolled oats
1/3 cup cocoa powder
1/2 tsp salt
1/2 tsp baking soda
1/4 cup butter
1 cup plain yogurt or kefir
1/3 cup melted butter (can sub coconut oil)
1/4 cup maple syrup (use up to 1/3 cup if you prefer things sweeter)
2 eggs
1 tsp vanilla extract
1/2 – 1 cup chocolate chips  – a lot of the sweetness comes from these, so use more if you want them sweeter
Directions:
Pre-heat the oven to 375 degrees.
Whisk together the flour, oats, cocoa powder, salt and baking soda in a large bowl.  Use a fork or pastry blender to cut the 1/4 cup of butter into the flour mixture until it has a crumbly sand-like consistency.
Whisk together the yogurt, melted butter, maple syrup, eggs, and vanilla very well until the eggs are completely blended into the other ingredients.
Mix together the wet and dry ingredients along with the chocolate chips.  If using oat or gluten free flours mix the ingredients very well.  If using wheat flours you'll want to mix the ingredients only until just moistened – it can still be crumbly.
Pour or scoop into muffins tins and bake for 18-20 minutes, until a toothpick inserted into the center comes out clean or with whole crumbs, not batter (melted chocolate is ok – that's from the chocolate chips).
Eat Happy!