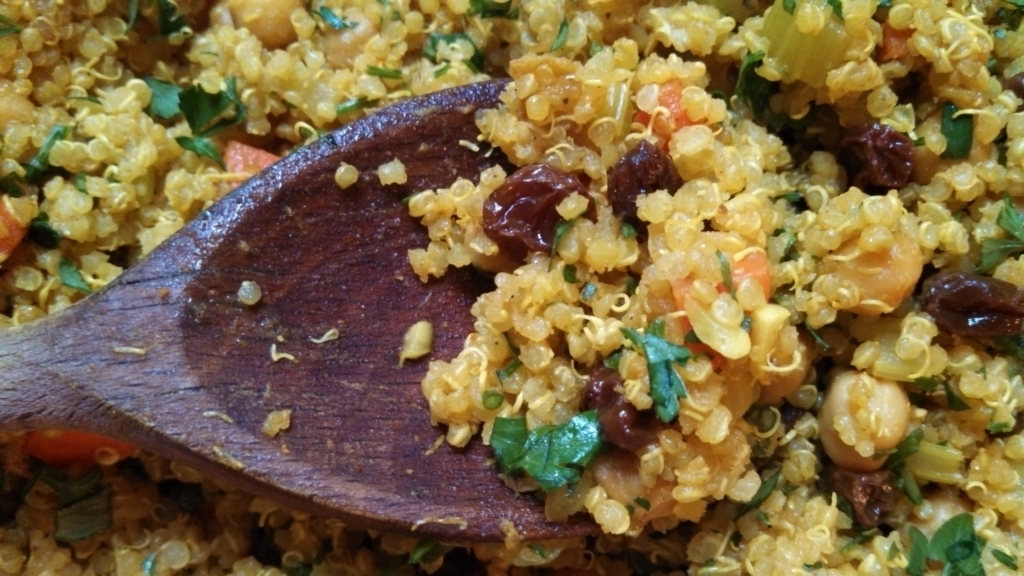 Curried Quinoa Salad with Raisins and Chickpeas
Curried Quinoa Salad with Raisins and Chickpeas
Cooler temperatures call for more warming foods.  But I don't always want the heaviness of meat and potatoes (sometimes yes, but not always!).  This curried quinoa salad provides the warmth and savoriness of curry paired with the sweetness of plump raisins and meatiness of golden chickpeas.
I came up with this recipe when I didn't particularly feel like cooking dinner.  But I still had to feed the family, so I wanted something quick and easy – ideally a one-dish meal.  This came together in under 30 minutes and was pulled primarily from pantry staples like dried quinoa, canned chickpeas, and raisins.  Although fresh spinach will be tastiest you can also use frozen in a pinch – simply saute it in with the onions and chickpeas to thaw it.  Like many grain salads this will keep well for days and is a great leftover for lunches.
Curried Quinoa with Raisins and Chickpeas
Total Prep Time: 30 minutes
Active Time: 30 minutes
Serves:  4
Ingredients
1 cup quinoa, rinsed well
1 ¾ cups water or chicken or vegetable stock
1/3 cup raisins
1 small onion minced
2 teaspoons minced garlic from about 2 cloves
1 tablespoon grated fresh ginger, or 1 teaspoon dried
1 large carrot cut into small dice
1 ½ cups cooked chickpeas from ½ cup dried or 1 can
1 tablespoon curry powder
4 cups fresh baby spinach leaves
Extra virgin olive oil (EVOO), sea salt and freshly cracked black pepper
Directions
Bring the water or stock to a boil, add the quinoa and reduce to a simmer, then cover and set the timer for 20 minutes.  If using water add 1 tsp of salt.  Make sure the quinoa just simmers and isn't vigorously boiling, or it could burn.
Meanwhile heat a large saute pan over medium heat and add ¼ cup of EVOO.  Add the onions and chickpeas and saute until the onions are softened and the chickpeas become slightly golden, about 8 minutes.  Then add the garlic, ginger and curry and cook for another 2 minutes stirring to cook everything evenly.
Add the carrots to the quinoa for the final 10 minutes of cooking time, then add the raisins for the final 4 minutes.
When the quinoa is cooked, add it to a large mixing bowl with the onion and chickpea mixture and the spinach.  Toss everything together – the spinach should wilt slightly.  Season with salt and pepper to taste.