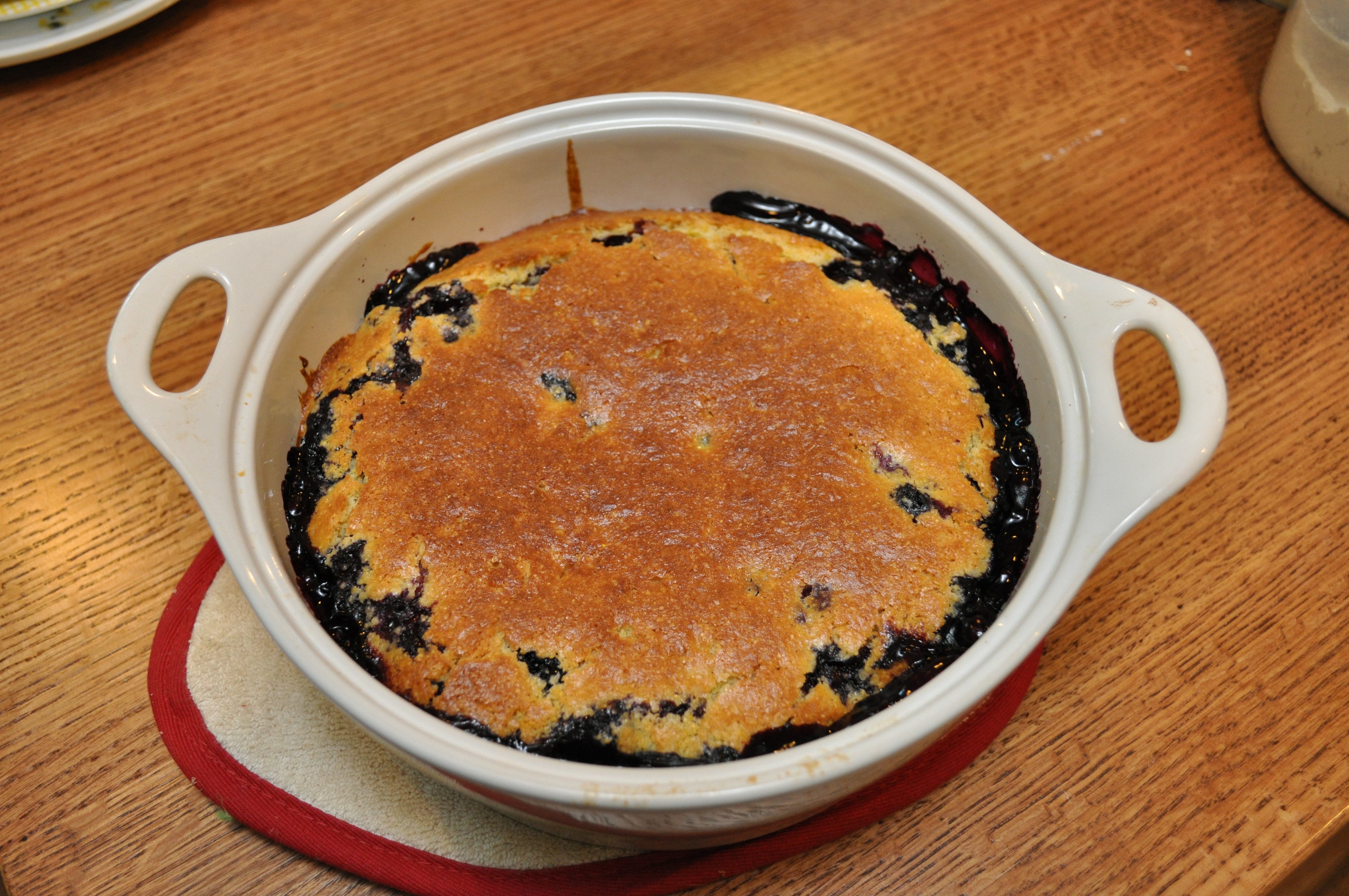 Blueberry Cobbler with Cornmeal Crust
What better way to celebrate the weekend and the end of blueberry season than with this Fresh Blueberry Cobbler with Cornmeal Crust?  It's really delicious, and tastes like summer.
I took the girls blueberry picking a couple of weeks ago and it was so fun.  It was the most hands-off I've been able to be with them in a long time!  The two year old was completely occupied stuffing herself with blueberries, and my four year old was doing a great job filling up her little bucket!  (Which she later dumped in a mysterious location for unknown reasons, but whatever).
Sometimes when we go berry picking we just eat up all of the fresh berries and don't get around to doing anything particularly special with them.  This time I just couldn't resist a blueberry cobbler, and I love the corn and blueberry combination, so thought I'd do a cornmeal crust.  Of course I love blueberry pie too, but it's so much work to do the crust, and I literally had 10 minutes to throw this together before sitting down for dinner.  Plus honestly I prefer cobbler toppings to pie crust.  Pies are prettier, though, I'll give them that!
If there's one thing I do differently when it comes down to dessert, it's that I pretty dramatically cut down on sugar from the recipes I adapt.  So, if you're a cut down on sugar kind of person, you might not want to cut down on the sugar from my recipes!  They're already quite low.  I don't find that people mind, and especially in fruit desserts, when you're using fresh fruit it's already sweet, and using less sugar means that you taste the flavors of the actual fruit more.  I even felt ok feeding the leftovers to the girls in the morning as a special breakfast.  That went over well, as you might imagine.
So go ahead and try it!  It made me happy, and it might just do the same for you!
Fresh Blueberry Cobbler with Cornmeal Crust
Active time:  10 minutes
Total prep time: 45 minutes
Ingredients:
6 cups fresh blueberries
3 tablespoons corn starch
1/3 cup sugar plus 1/4 cup
juice from 1 lemon
1 cup all-purpose flour (I used GF mix)
1/2 cup cornmeal
1 1/2 teaspoons baking powder
3/4 tsp salt
1 stick of butter cut into cubes
1/2 cup plain kefir (can sub plain yogurt or milk + 2 tbsp lemon juice)
1 egg
Directions:
Pre-heat your oven to 400 degrees
In a large bowl stir together the berries, cornstarch, lemon juice and 1/3 cup of sugar until the berries are well-coated.  Pour them into a greased casserole dish
In another bowl whisk together the flour, cornmeal, baking powder, salt, and 1/4 cup sugar.  Use a pastry blender, fork, or your fingers, cut the butter into the flour mixture until it's a crumbly/sandy consistency.
Whisk together the egg and the kefir until well combined.  Stir it into the dry ingredients until they're moistened.  Spoon the mixture on top of the berries.
Bake for 35-40 minutes until the cobbler is bubbling and the crust is browned.  Let it cool a little before serving.  I highly recommend serving with a little vanilla ice cream!
Cheers to summer food.  Eat Happy!