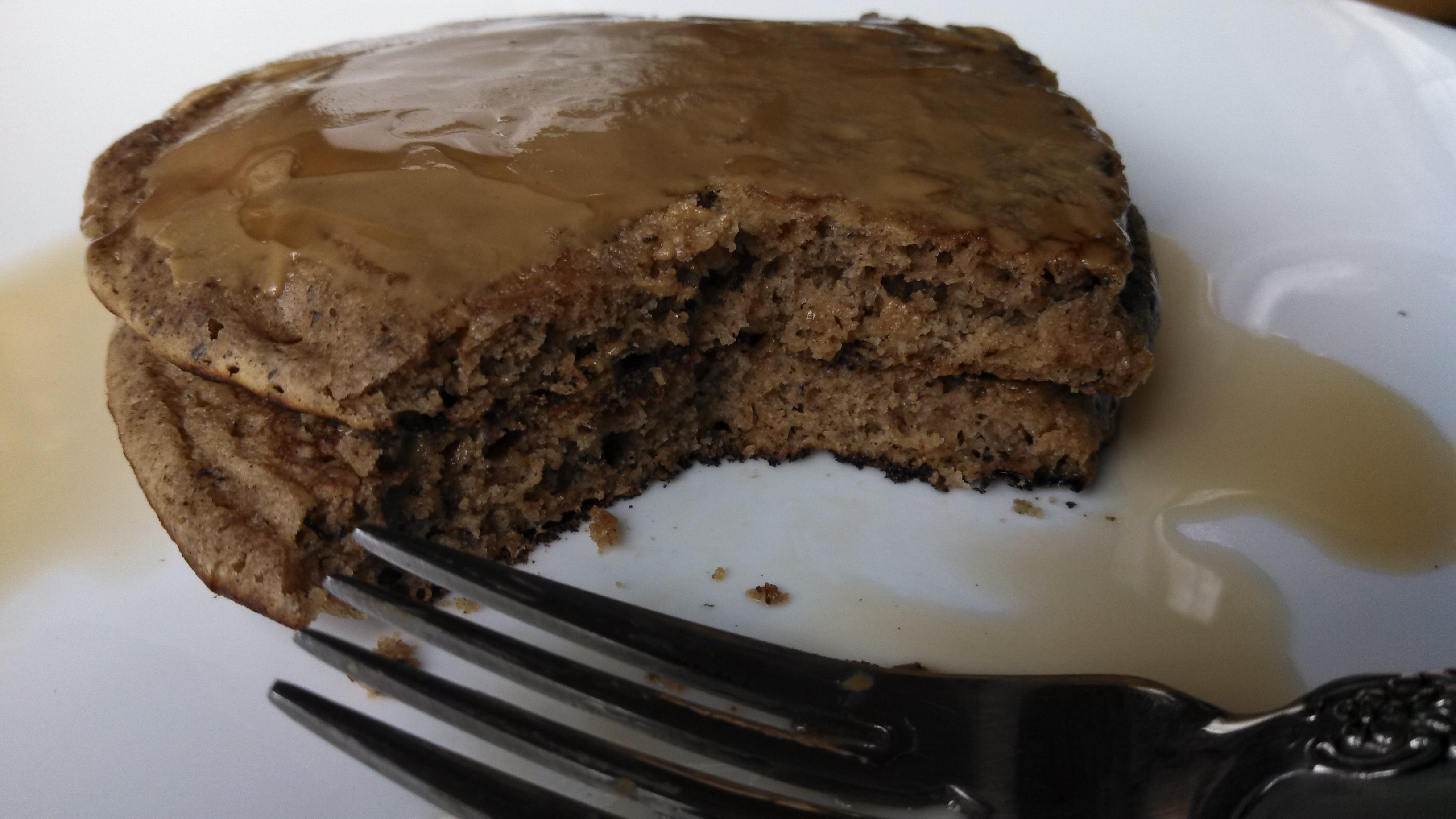 I love making pancakes on weekends and buckwheat pancakes are my favorite.  Buckwheat has a wonderful nutty flavor and stays moist and tender in pancake form.  And I don't know what it is, but I just feel good after eating buckwheat.  In this recipe I mix in some oat flour, which provides some natural sweetness that balances out the nuttiness of the buckwheat.  Cinnamon and maple syrup provide the subtle spice and sweetness and contribute to the beautiful golden color.
Buckwheat is technically a fruit seed, not a cereal grain, and isn't at all related to wheat (therefore it's completely gluten-free).  High in nutrients including an array of phytonutrients such as lignans, which can protect against heart disease and cancer.  For a full list of the health benefits of buckwheat, click here.  It is one of my favorite super foods.
I rarely write down my pancake recipes – I make them so much I have a general formula memorized and on any given day I tinker with it a little, adding this or that – pancakes are pretty hard to screw up.  But the buckwheat pancakes I made this weekend were especially good – lightly spiced but not in a holiday-y kind of way.  They were moist and fluffy yet filling, and a just a tad sweet, making them pleasant to eat on their own but not so sweet that they'd be too sugary with syrup on top.
When you go to buy buckwheat flour make sure you buy 100% buckwheat flour.  Sometimes buckwheat mixes contain a majority of refined white flour with only a little bit of buckwheat – it'd be a shame to waste your money on that, they won't taste nearly as good!
Maple Spiced Buckwheat Pancakes
Total Prep Time: 30 minutes
Active Time: 30 minutes
Serves: 4-6
Ingredients
1 cup oat flour (you can make your own by putting rolled oats into your food processor until ground into a fine flour)
1 cup buckwheat flour
1 tsp baking powder
1 tsp baking soda
1/2 tsp salt
3/4 tsp cinnamon
3 Tablespoons real maple syrup
1 1/2 cup whole milk, non-dairy is fine
2 eggs
4 tablespoons melted butter or coconut oil, plus more for greasing your cooking surface
3 teaspoons apple cider vinegar
Directions
Whisk together the first 6 ingredients (flours through cinnamon) in a large bowl.
In a smaller bowl whisk together the wet ingredients: maple syrup, milk, eggs, melted butter or oil and vinegar.  Make sure eggs are whisked really well into the mixture so that you don't get any eggy bits in the finished pancakes.
Whisk the liquid ingredients into the dry ingredients.  You can go ahead and mix them well – no worries about over-mixing.
Let the batter sit for about 5 minutes to thicken up.  While you're waiting place your pan on the stove over medium heat.  I love using my cast iron skillet for pancakes, but use whatever works well for you.  (To read a little on safe non-stick cookware, read this).  Add about a tablespoon of butter or coconut oil to grease the pan.  After 5 minutes you can adjust the flour/milk a little to get the right batter consistency if you need to – sometimes humidity can make the proportions change a little.  The batter should be pourable but thick enough to stand up to about 1/3 of an inch or so when poured into a hot pan.
When the pan is hot cook the pancakes in whatever size and shapes you like the most.  Adjust the heat as necessary.  You'll want little bubbles to form on the top surface of the pancake before flipping, which will ensure that your pancake doesn't fall apart mid-flip.  The perfect heat is where you get these bubbles around the same time as the bottom of the pancake becoming lightly golden.  It may take a few pancakes to get into the swing of it, so don't stress if the first few are off.
Cook away then eat how you like them!  I eat them the way my dad always did – with a little peanut butter (I use sunflower seed butter) and maple syrup.
*Note: pancakes store great in an airtight container in the fridge.  I frequently make a double batch for easy breakfasts or lunches throughout the week.  They also make great travel food for car trips or airplanes!