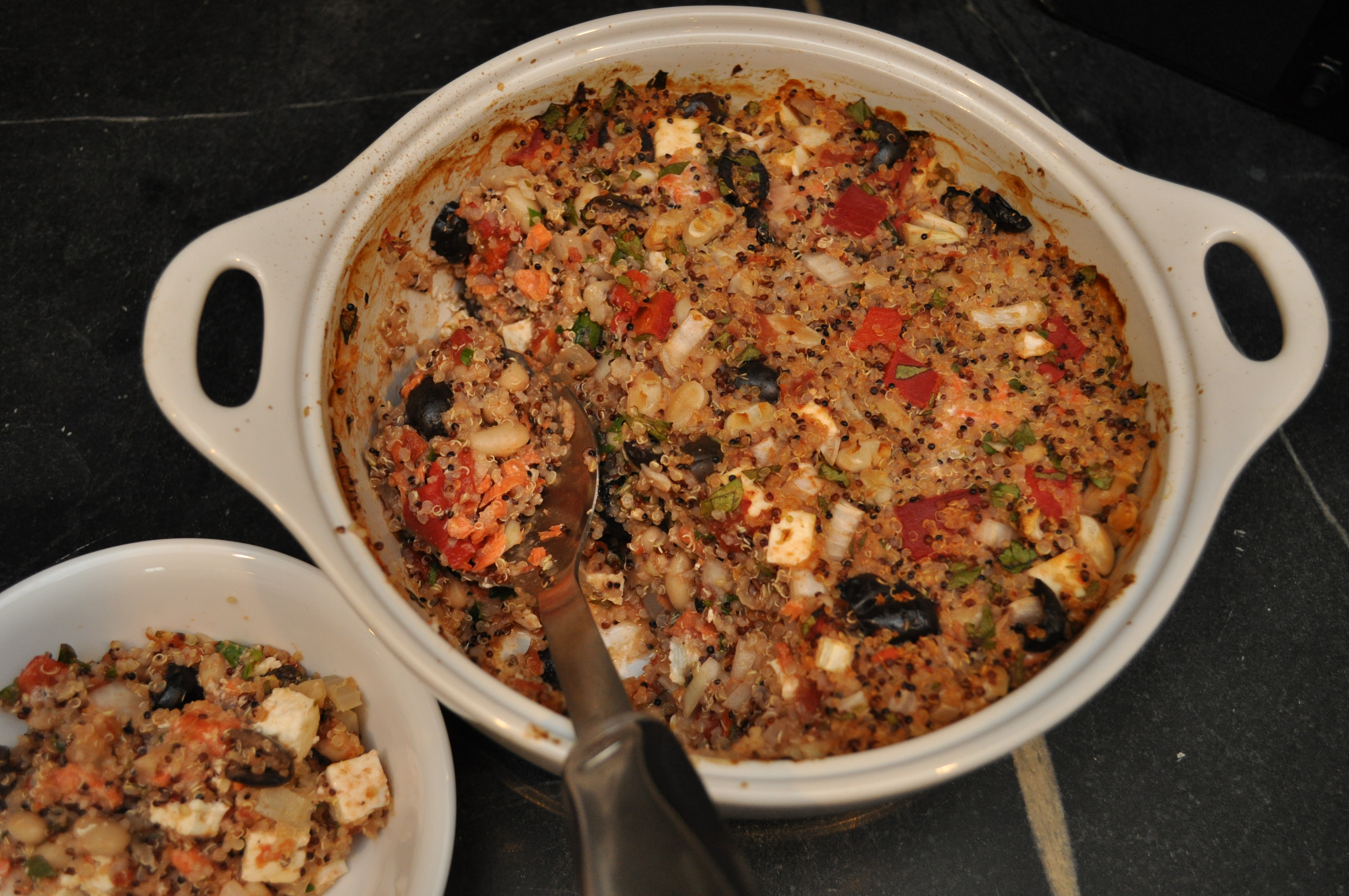 Mediterranean Quinoa Casserole with lots of good stuff
While putting together the Eat Happy Meal Plan for next week I inadvertently ended up with a bit of a Mediterranean theme – including this Mediterranean Quinoa Casserole.
Mediterranean food is renowned for its health benefits as well as its tastiness and, for lack of a better term, the level of satisfaction this way of eating provides.  Because it's not deficient in any major food group (lookin at you fats) and includes a lot of variety in foods and flavor, it's a very satisfying way to eat, which also happens to make it very sustainable.
This casserole is a bit of a smorgasbord of Mediterranean ingredients – kalamata olives, roasted red peppers, tomatoes, cannellini beans, feta cheese (look for authentic goat or sheep milk varieties), fish, and fresh herbs.
You do have to cook the quinoa, but other than that the preparation is as simple as tossing chopped ingredients in a bowl (many of which conveniently coming from the pantry), mixing, then transferring to a casserole dish to bake.  Twenty-five minutes, easy peasy.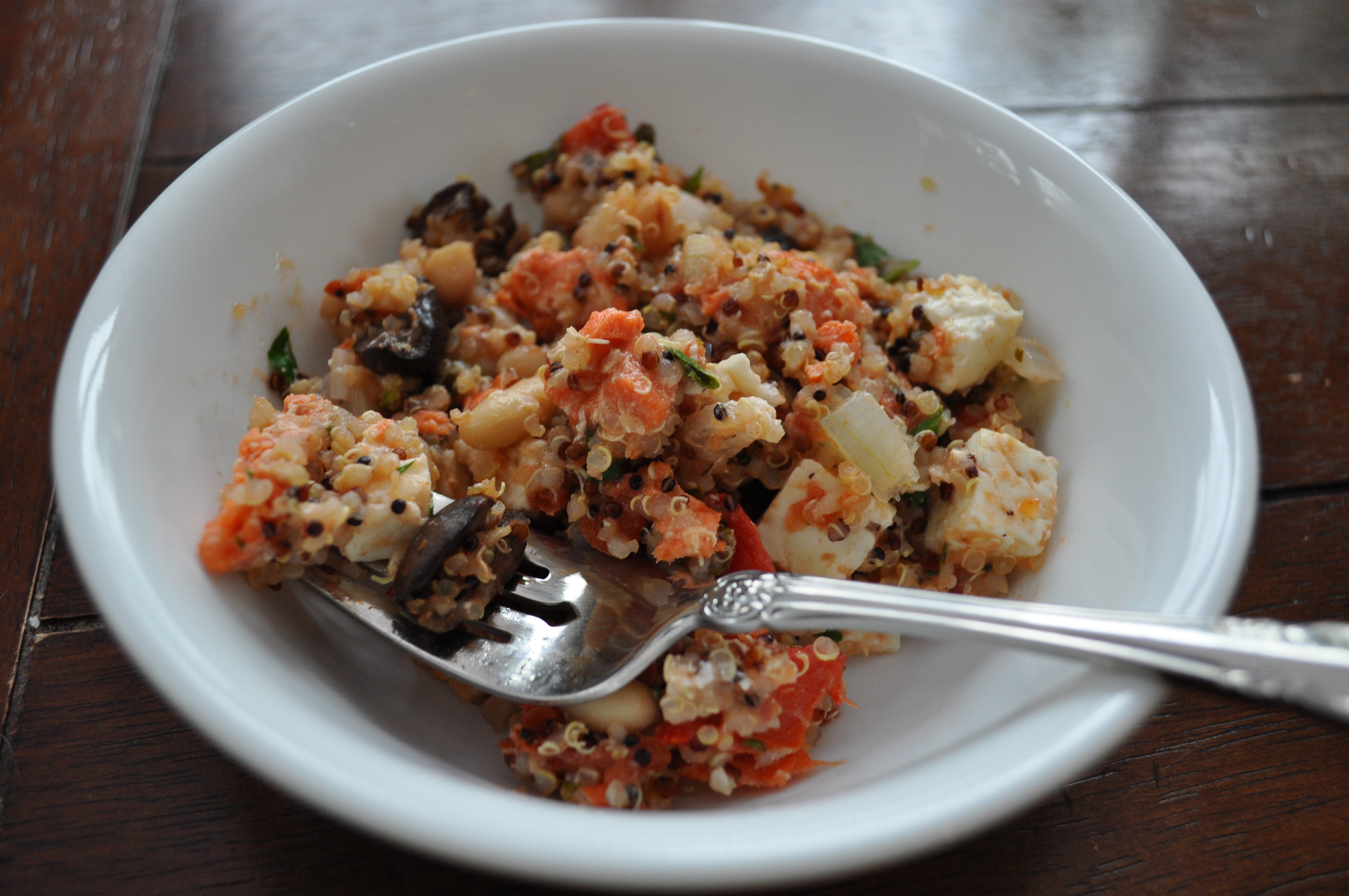 Serving of Mediterranean Quinoa Casserole
Mediterranean Quinoa Casserole with Kalamata Olives, Roasted Red Peppers and Cannellini Beans
From: Eat Happy Meal Plan
Total Prep Time: 55 minutes
Active Time: 25 minutes
Serves:  4 with leftovers
Ingredients
1 cup uncooked quinoa, rinsed well in a fine-mesh sieve
2 cups chopped tomatoes with liquid from about 1 can
3 roasted red peppers, about 1 jar, cut into bite-sized pieces
1 small onion, minced
2 tsp minced garlic, from about 2 cloves
1 cup pitted Kalamata olives, cut in half, from about 1 car
1 ½ cups cooked cannellini beans from 1 can or ½ cup dried
*12 ounces wild salmon or white fish, skin removed and cut into cubes
*8 ounces feta cheese, cut into ½ inch cubes
1/3 cup minced fresh parsley
Juice and zest from 1 lemon
Extra virgin olive oil (EVOO), sea salt, freshly cracked black pepper
Directions
Pre-heat your oven to 400 degrees.
While the oven is heating prepare the ingredients: bring 2 cups of water and ½ tsp salt to a boil.  Add the rinsed quinoa, reduce to a simmer, cover and cook for 15 minutes.  Strain into the fine mesh sieve and let the steam evaporate when the quinoa is done cooking.  Chop all other ingredients as listed above and combine in a large mixing bowl.
When the quinoa is ready mix it with the other ingredients until well-combined.  Pour all of the ingredients into a large casserole dish.
Bake uncovered for 30 minutes at 400 degrees until bubbling and the fish is cooked through.
*For vegan or vegetarian versions, simply add an extra can of beans and omit the fish/cheese
The end result is very family-friendly, full of delightful ingredients, and easy to make ahead and store.
Eat Happy!