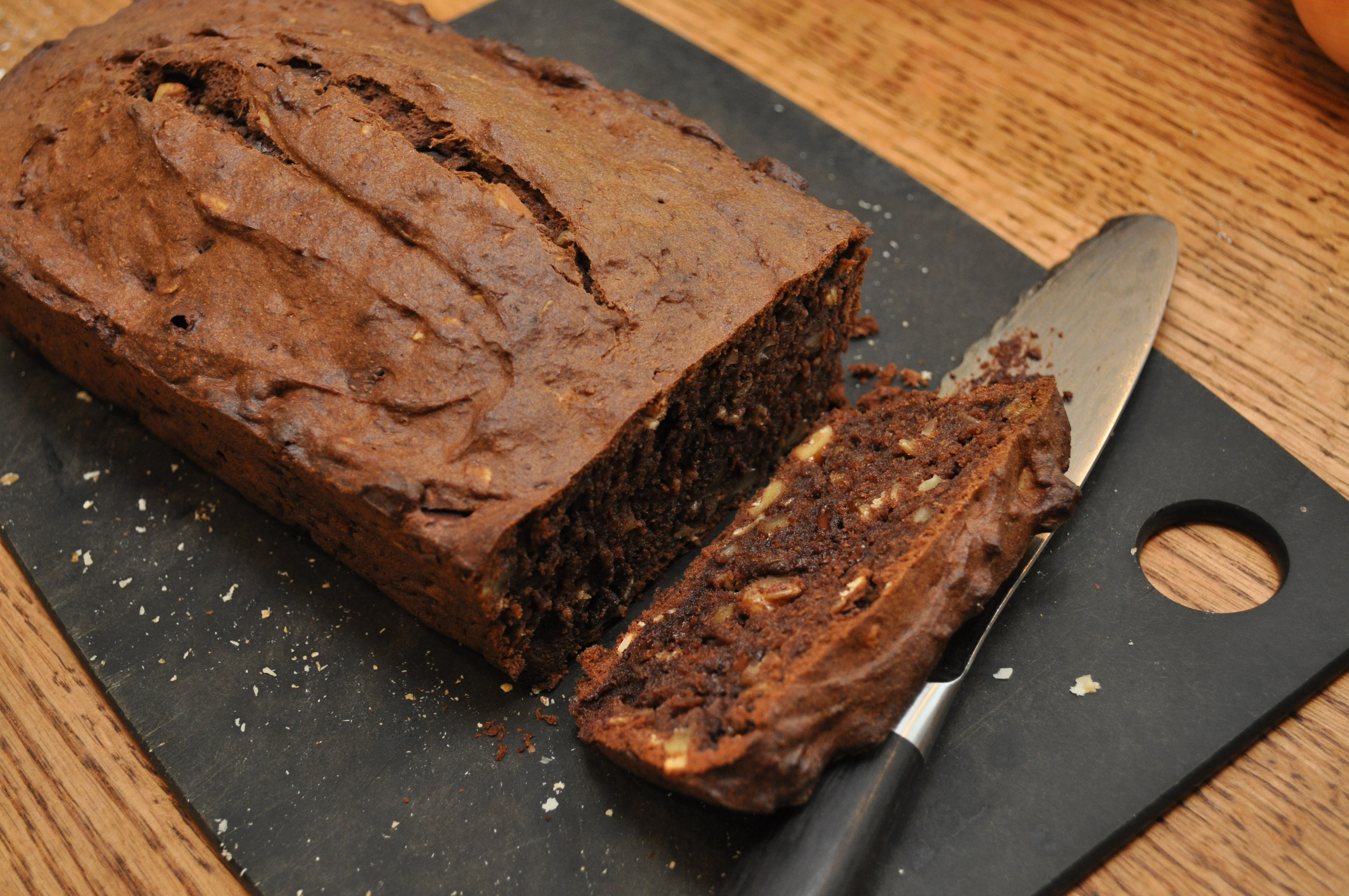 Chocolate banana bread
Welcome to the world little Larson Alexander Glenn!  I just had my 3rd sweet little baby and he's adorable.  I have been enjoying more of a break from cooking in the week since his birth, but since I'm nursing I have been HUNGRY.  Like, really really hungry.  And oddly after having a baby I seem to crave chocolate.  This led me to make the above loaf of chocolate banana bread.
If you have some ripe bananas hanging out in your kitchen, there's nothing more tasty and convenient to make than banana bread; and what's even better than regular banana bread…chocolate banana bread!
I like to eat this chocolate banana bread as a snack, or even for breakfast with some sunflower seed butter.  This recipe will be chocolaty and moist and have sweet bursts from chocolate chips if you use them.  Add some nuts and some rolled oats and it will be even more substantial.
Fair warning: it won't taste like cake, which is what most banana breads and muffins taste like these days.  Because I eat it more like a mini-meal and not like a dessert I prefer it this way.  You can vary the sugar to your tastes; with 1/2 cup of sweetener the bread will be slightly sweet, 1/3 cup will be barely sweet, and you could always increase it to 3/4 cup (which is the amount in the original recipe) for a more dessert-like bread.
Chocolate Banana Bread
Ingredients
1/2 cup butter at room temperature
1/2 – 1/3 cup sugar or honey, or a combination of both
2 eggs
1 cup mashed very ripe banana
2 cups flour (I use 1 1/3 cup oat flour and 2/3 cup gluten free mix, you can use whatever you like)
1/3 cup cocoa
1/2 tsp baking powder
1/2 tsp baking soda
1/2 tsp salt
1 Tablespoon orange zest, optional
1/4 cup plain yogurt or buttermilk (can sub milk + 1 tsp apple cider vinegar or lemon juice)
optional add-ins (1-1 1/2 cups): chopped walnuts, chocolate chips, rolled oats – don't use more than 1/3 cup oats so the bread won't get dry)
Directions
Pre-heat your oven to 350 degrees
Whisk together the flour, cocoa, powder, soda, salt in a large bowl
Cream the butter and sugar/honey.  Add the eggs, banana, yogurt and zest if using.
Mix the wet and dry ingredients until well-combined.  Fold in the add-ins.
Pour into a loaf pan and bake for 50-55 minutes until a toothpick inserted into the center comes out clean.  Let the bread sit for at least 10 minutes before slicing.
Enjoy and Eat Happy!