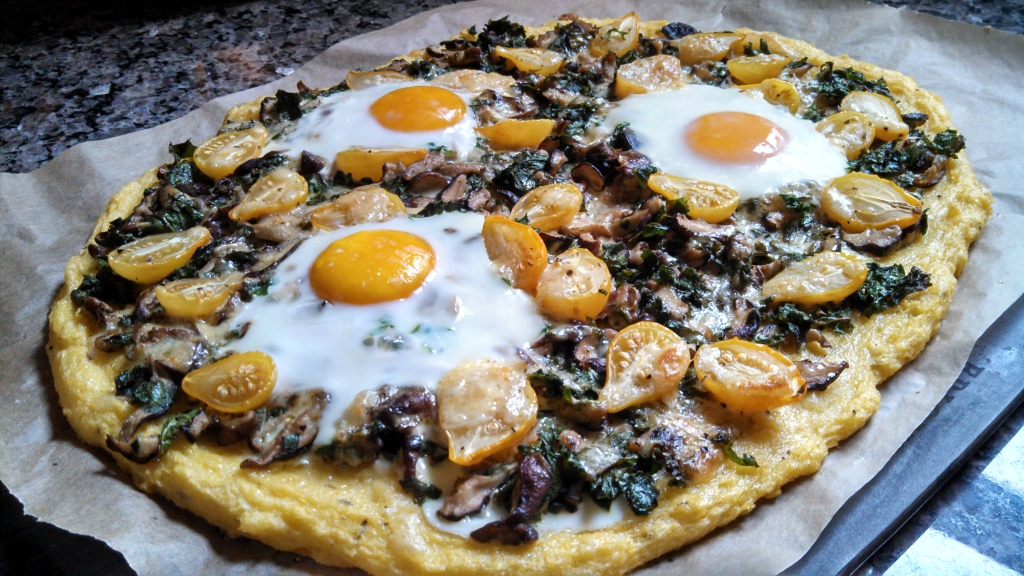 Polenta Pizza with Mushrooms, Kale, Cherry Tomatoes and Baked Eggs
Me and pizza go way back.  My first job was at a pizza parlor, many of my favorite restaurants have been pizza places, and I've traveled fairly extensively in pursuit of amazing pizza.  And now I eat gluten free.  Sometimes there is a small hole in my heart where pizza should be.
I have experimented with gluten free pizza crusts, both my own and store-bought.  Nothing has really filled the void.  I'm still working on it.
Polenta pizza is its own thing.  It's not trying to be regular chewy-crust pizza.  It's just plain delicious in its own right, and yet it satisfies that craving for something pizza-like: savory, comforting, cheesy, and with the right ratio of crust to toppings.  And frankly polenta pizza crust is way easier than making your own regular or gluten-free pizza crust, so it's really a win-win.
Feel free to experiment with whatever toppings you like.  Polenta pairs beautifully with a traditional tomato sauce.
Polenta Pizza with Cherry Tomatoes, Kale and Mushrooms
Total Prep Time: 50 minutes
Active Time: 30 minutes
Serves:  4
Ingredients
1 cup coarse corn meal (aka polenta)
½ cup whole milk, optional (can sub water)
16 ounces fresh sliced mushrooms (baby bella, shiitake, oyster, etc)
5 large kale leaves, thick stems removed and minced
4 ounces pepper jack cheese, shredded (or sub any mild white cheese or vegan cheese)
1 cup cherry tomatoes, sliced in half
4 eggs, optional
Extra virgin olive oil (EVOO), sea salt, freshly cracked black pepper
Directions
Pre-heat your oven to 375 degrees and either grease a large baking sheet with a little EVOO or cover with a piece of parchment paper.
Place 2 ½ cups of water in a medium saucepan, add the milk (or sub water), 3/4 tsp of salt, 1 tsp minced garlic, and bring to a simmer.  While whisking constantly add the corn meal in a slow stream.  Whisk until all lumps are gone and the cornmeal begins to thicken.  Cook the cornmeal on a low simmer for 5 minutes and then remove from the heat.  Spread the polenta with a spatula (you might have to grease the spatula with a little oil) into a pizza crust shape on the cookie sheet/parchment paper.  The crust should be about ½ inch thick.  It doesn't have to be perfect.  Bake the crust for 25 minutes.
While the crust is baking place a large saute pan over medium-low heat.  Saute the mushrooms in a little EVOO until they release their moisture and have lightly caramelized, about 8 minutes.  Season them with a little salt and pepper while they're cooking and stir regularly.
Add the minced kale and a little more EVOO if necessary.  Cook until the kale wilts, stirring regularly, about 3 more minutes.
Remove the crust from the oven when it's done and drizzle it with a little EVOO – brush the oil across the top of the crust if you have a pastry brush.  Add the mushroom and kale mixture, the shredded cheese, and finally the cherry tomatoes to the pizza.  Sprinkle the whole thing with a little salt and pepper.
Optional: make 4 wells in the toppings and carefully pour an egg into each well (crack them into a small bowl first).
Bake the pizza for about 20 minutes until the cheese has melted and the eggs have set, if using.
Eat Happy!