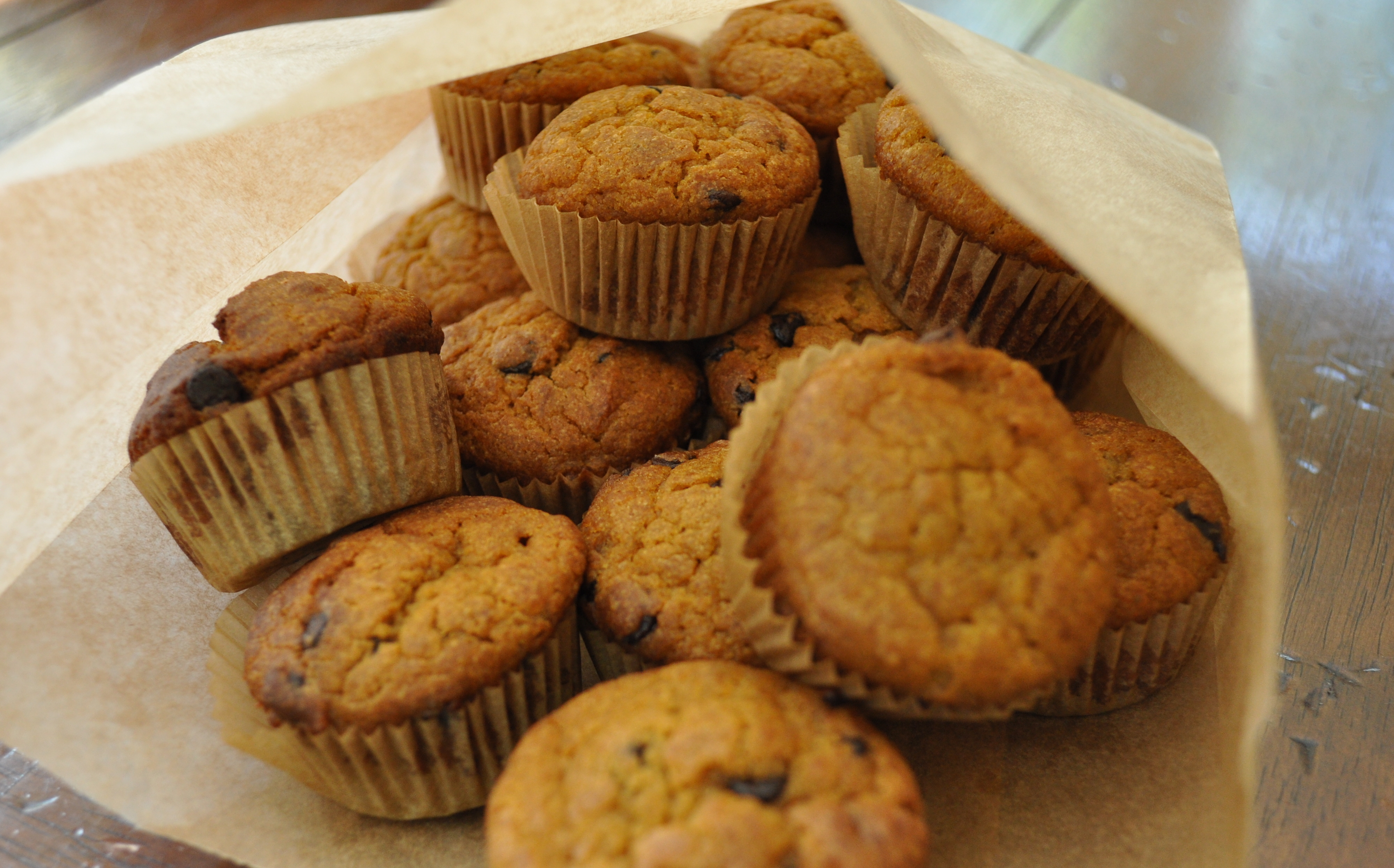 Pumpkin muffins, mini size
It's time for all things pumpkin, and one of my favorite ways to use this wonderful ingredient is in these Pumpkin Muffins.  They're moist, warmly spiced, and super cute when you make them in the mini-muffin tins with some mini chocolate chips.
Unlike some nasty pumpkin-flavored products, making your own pumpkin muffins mean that you're eating the goodness of real pumpkin, cinnamon, butter, and other real-food ingredients.
This recipe is really versatile.  You get some leeway to use the flour you want, a little more or less pumpkin, milk or yogurt.  They'll still turn out moist and tasty thanks to the pureed pumpkin.  It's a great recipe to use whole grain flour, and it transitions to gluten-free very easily thanks to two eggs in the recipe.
One other little thing I love about this recipe: it uses melted butter.  There's nothing worse than being ready to make and having to wait for your butter to come to room temperature, or trying the partial thaw, only to have it half melted and half frozen.  Not a problem for these little muffins!  Melt your butter and you're on your way.
Ingredients
1 2/3 cups flour (I recommend whole grain, and I use oat flour)
1/3 – 1/2 cup maple syrup, honey or other sweetener
1 tsp baking soda
1 tsp cinnamon
1/4 tsp baking powder
1/4 tsp salt
1/2 cup mini chocolate chips
2 eggs
3/4 cup pureed pumpkin or squash
1/2 cup melted butter
1/4 cup whole milk or plain yogurt
1 tsp vanilla extract
Directions
Pre-heat the oven to 350 degrees
Whisk together the dry ingredients: flour, soda, cinnamon, baking powder, salt
Mix the wet ingredients until combined very well: eggs, pumpkin, butter, milk/yogurt, vanilla, sweetener
Combine the wet and dry ingredients until everything is moistened
Spoon into mini or regular muffin cups.  Bake for 15 minutes (mini) or 18 minutes (regular) and until a toothpick inserted in the center comes out without any uncooked batter.
For more Eat Happy goodness, Like Us on Facebook
Eat Happy!