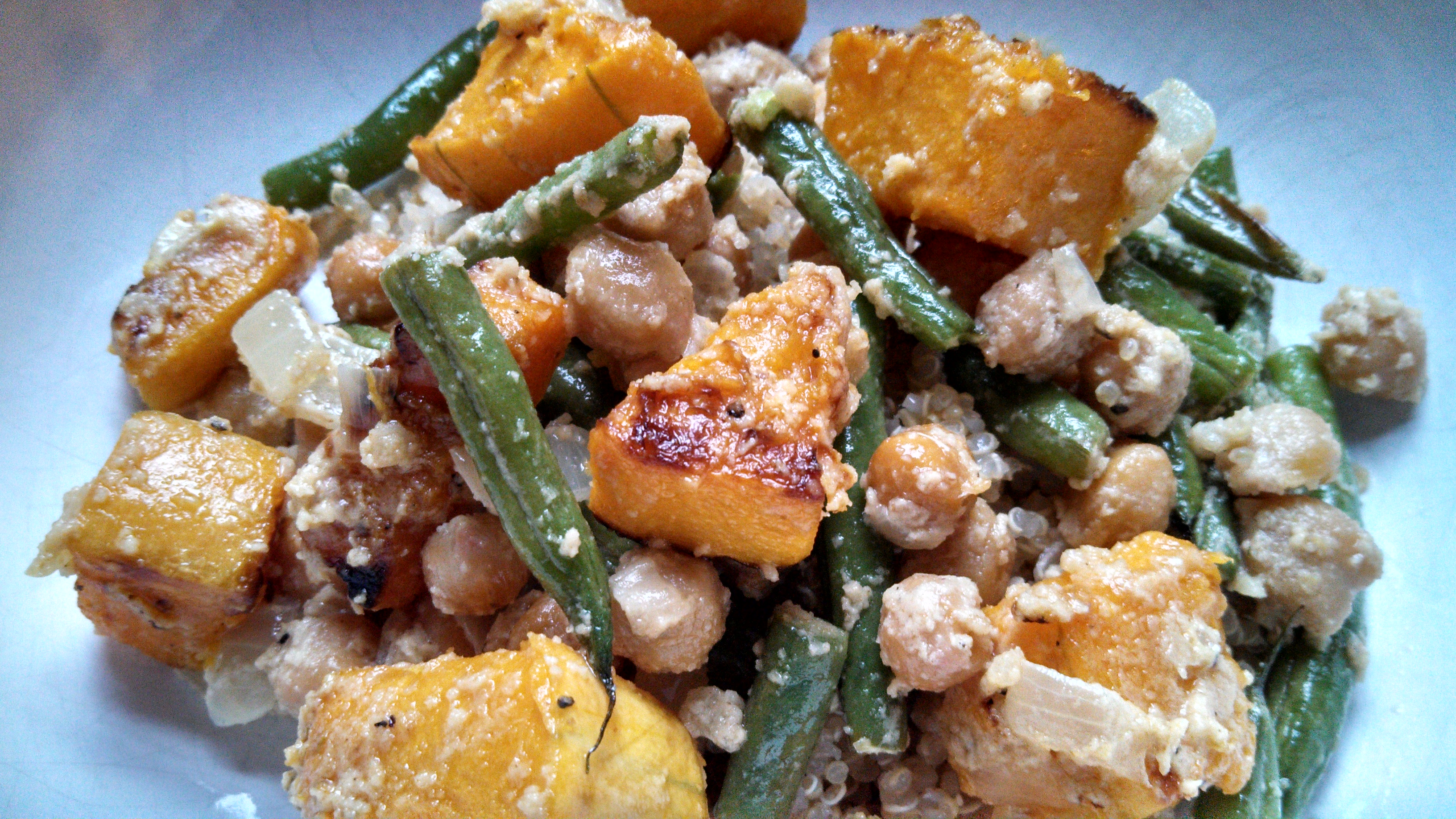 Roasted Squash Salad with Two Beans and Tahini Lemon Dressing
Beautiful, delicious and simple.  There really isn't anything not to love about this dish.  But my favorite thing about, besides the taste, it is how efficient the preparation is.
When I'm in a rush, and I usually am, I try to think of recipes that consolidate prep steps.  In this "salad" (I only call it a salad because it is tossed with a dressing – there's no lettuce in it), you can roast the squash, garbanzo beans, and green beans all at the same time.
Then, while they're getting tasty in the oven, you have plenty of time to whip up the super quick and simple dressing.  You'll even have time to clean up the kitchen, play with the kiddos, throw in some laundry, or do whatever you need to do.
When the roasting is done, plop everything in a large bowl and toss with the dressing.  Dinner is served.
Honestly, most of the work is in peeling and chopping the squash.  For that you'll want a good knife – this is my favorite – and peeler.  And if you're not sure how to do it watch this video first.  Or, if you're not into all that, some handy already-prepared squash from your grocery store.  It's worth it, cause then you get to eat this: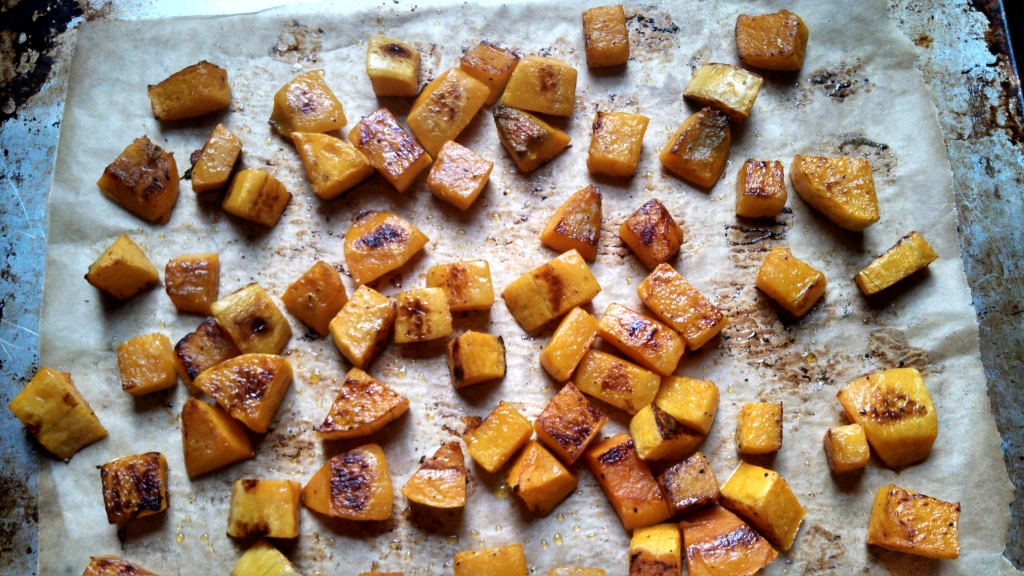 Roasted butternut squash on parchment paper
Roasted butternut squash
The recipe has the option to serve over brown rice or farro.  This will make the dish extra filling, but it's every bit as delicious without – and actually I rather prefer the simplicity of it with just the beans and squash.
For more delicious recipes, complete with weekly menus and time-saving shopping lists, be sure to check out Eat Happy Meal Plan.
Roasted Squash Salad with Two Beans and Lemon Tahini Dressing
From Eat Happy Meal Plan
Total prep time: 60 minutes
Active prep time: 30 minutes
Serves: 4
Ingredients
1 large butternut or other winter squash, peeled and cut into 1-inch dice
1 onion, minced
2 teaspoons minced garlic, from about 2 cloves
¼ cup tahini (sesame seed paste)
1 lemon, juice and zest
2 cups fresh or frozen green beans, cut into 2-inch pieces
1 ½ cups cooked chickpeas, from 1 can or ½ cup dried
1 teaspoon ground cumin
1 cup brown rice or sub farro, optional
Extra virgin olive oil (EVOO), sea salt, freshly cracked black pepper
Directions
Boil a medium pot of water and cook brown rice per time on package instructions (usually 45-50 min).  I recommend *cooking in 6 cups of water, then draining over a fine-mesh sieve.

Pre-heat oven to 400 degrees and place 2 racks about 3 inches apart in the center of the oven.  Place diced squash on a baking sheet, drizzle with a little EVOO and sprinkle with some salt and pepper.  Toss the squash to coat and spread to a single layer.  For extra easy clean-up use a silicon roasting mat or parchment paper.  Roast for 20 minutes.

Place chickpeas and green beans on another baking sheet, toss with a little EVOO and salt and pepper, and spread single-layer.
When squash has roasted for 20 minutes, flip it with a spatula to promote even browning and place it back in to oven.  Also place the chickpeas and green beans in the oven on the second rack.  Roast for another 10-15 minutes, until the squash is tender when pierced with a sharp knife and the green beans are cooked.
While everything is roasting prepare the dressing: place a small saute pan over medium-low heat.  Add a couple tablespoons of EVOO and saute the onion until tender, about 3 minutes.  Add the garlic  and cumin and saute another minute.  Turn off the heat and add the tahini, a couple tablespoons of water, the lemon juice and zest, and about ½ tsp of salt and stir everything together until a nice sauce forms.  Season with a little black pepper and set aside.
When the squash and beans are cooked slide them all into a large bowl and toss with the dressing.  Serve over a bed of the rice or farro.
*preparing rice with this method has been shown to reduce arsenic levels significantly.  Farro can be prepared per package instructions