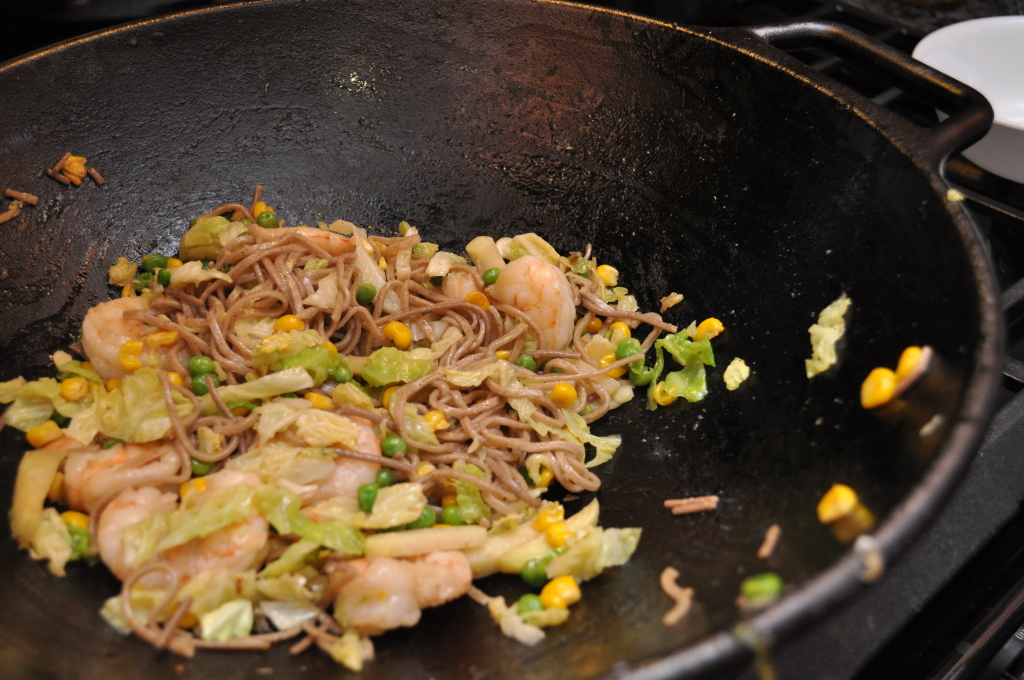 There are a few meals that I could be happy eating nearly every day.  This stir-fry is one of them.  Light, slightly salty and slightly sweet, and full of whatever vegetables you have on hand, it's balanced in every sense.  By all means adapt it to the veggies or proteins in your fridge or freezer.
Cooking in a traditional wok actually makes life easier because the wok's larger surface area can accommodate all of the ingredients at once, and therefore results in faster cooking.  Added bonus: cast-iron woks infuse a little health-beneficial iron into your food.  And they're very affordable relative to pricey stainless steal or ceramic cookware.  Get a good wok here.
Sesame Ginger Shrimp and Soba Noodle Stir-Fry
From Eat Happy Meal Plan
Total Prep Time: 35 minutes
Active Time: 30 minutes
Serves:  4
Ingredients
1 lb shrimp, raw and deveined (sub any protein – tofu, chicken, etc)
½ head savoy or napa cabbage
1 cup frozen corn
1 cup frozen peas
3 scallions, thinly sliced
8-10 ounce package soba noodles (I like 100% buckwheat noodles that are gluten free)
Sauce:
2 tablespoons sesame oil
1/4 cup soy sauce or sub coconut aminos
2 tablespoons honey, raw and local are best
3 tsp minced garlic, from about 3 cloves
1 2-inch piece fresh ginger, grated, can substitute 1 tsp dried ginger
2 tsp cornstarch
1 tsp hot sauce or sri racha, optional
Extra virgin olive oil (EVOO), sea salt, black pepper, crushed red pepper
Instructions
Mix all of the sauce ingredients together along with a tablespoon of EVOO, being sure to dissolve all of the cornstarch in the mixture.  Include some crushed red pepper if you like a little spice.  Set aside.
Place a large pot of water on the stove and bring to a boil.  When the water is boiling cook the soba noodles according to package instructions (don't skip the step of rinsing them in cold water – this will stop cooking and prevent them from clumping together).  Toss the noodles in a teaspoon or two of extra sesame oil and set aside.
While the noodles are doing their thing start on the vegetables:  slice the cabbage into ¼ inch strips and slice the scallions.  Heat a large wok or saute pan over medium-high heat and add a drizzle of EVOO.  Add the peas, corn, and cabbage and saute until the cabbage is wilted, about 4 minutes.
Sprinkle the shrimp with a pinch of salt and pepper and toss with a little EVOO.   Scoot the vegetables off to the side of the wok and add the shrimp to the hot part of the pan.  Cook the shrimp, tossing occasionally, until it is 80% cooked (it will curl and lose most of its translucency).  Immediately add the cooked soba noodles, scallions, and sauce and stir/cook everything together until the sauce has simmered and thickened, the shrimp is completely cooked through, and the flavors and ingredients are well-combined, about 3-4 minutes.