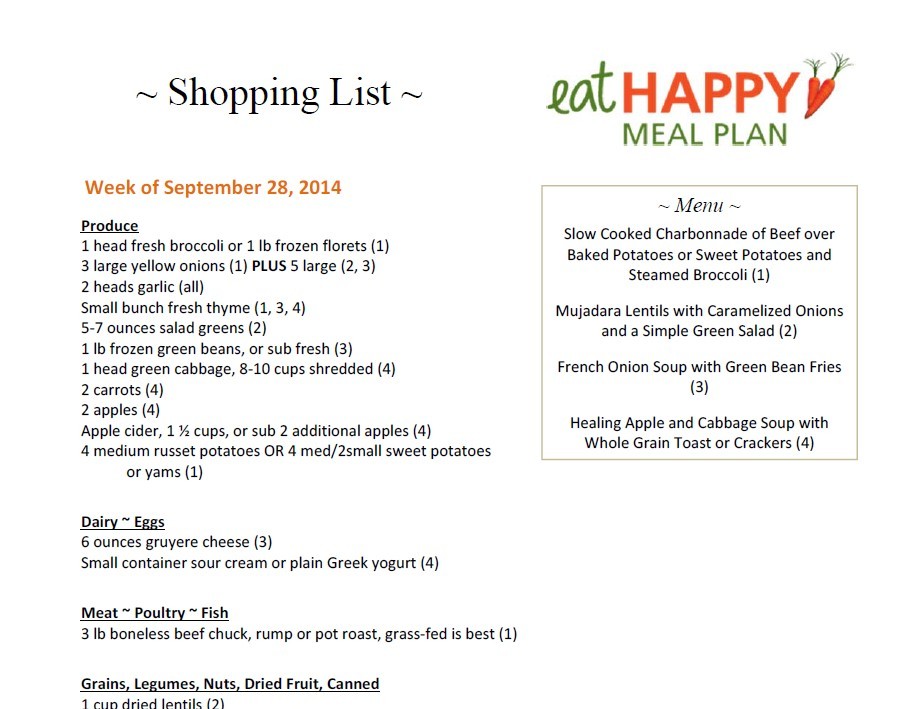 Meal Plan Menu Sept 28, 2014
It's officially Fall, and time for heartier foods that build inner warmth and strength.  One of my favorite meals is this week's Charbonnade of Beef: it's a very traditional recipe, originally from James Beard.  Beef is sliced thin and cooked slowly with onions and beer in the oven until incredibly tender.   I make it work-week friendly by using a slow cooker to get the same tenderness with very low maintenance.  The is the first meal my mom brought over after I had baby Larson a few weeks ago ("for iron!") and it was exactly what I needed.
In this meal plan the Charbonnade leftovers are used to make a delicious French Onion Soup, and you'll also enjoy some of Fall's wonderful cleansing foods, including apples, cabbage, and greens.
This is this week's meal plan that came out last Thursday, but if you sign up this week and would still like to receive it, shoot me an email I'd be happy to send it to you so that you can enjoy these delicious dinners:
Slow Cooked Charbonnade of Beef over Baked Potatoes or Sweet Potatoes and Steamed Broccoli
Mujadara Lentils with Caramelized Onions and a Simple Green Salad
French Onion Soup with Green Bean Fries
Healing Apple and Cabbage Soup with Whole Grain Toast or Crackers
Enjoy these meals that are loaded with Fall's best foods.  Along with the full meal plan menu and shopping list, you'll receive the easy-to-prepare recipes and a calendar for the week that describes how to prepare in advance for a super efficient week of dinners.
Sign up today to get your this Eat Happy Meal Plan in your inbox.  Transform your relationship with dinner!
Don't forget to Like us on Facebook for more Eat Happy recipes and menu plans!