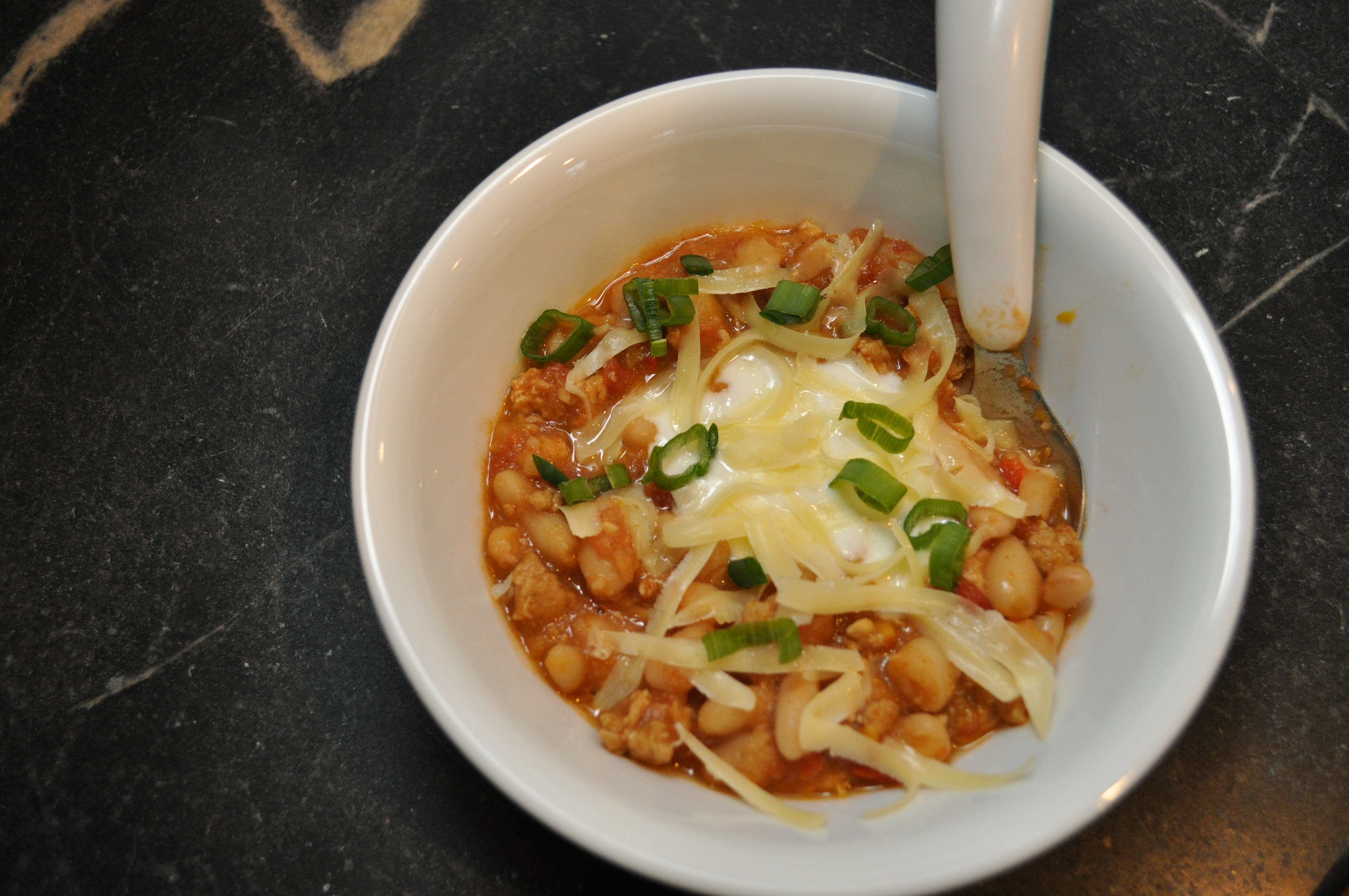 White bean and turkey chili with sweet potatoes and jalapeno
This chili has been very popular with the kiddos for dinner, and will be a new winter staple in our house.  That's my 3 year old's chili – the supermodel in the above pic. It's a sweet, savory, and if you want, slightly spicy take on chili.  Half-way between a traditional chili and a white chili it's not too acidic, which I really enjoy with the traditional savory chili spices (and it's easier on sensitive tummies).
I served mine with a little grated white cheddar cheese, some sliced green onions, and a spoonful of plain yogurt – delish.
Possible adaptations: omit the turkey if you're vegetarian and add an extra can of beans, or a little diced firm tofu.  If you're not into sweet potatoes (my husband isn't), simply omit those – it'll be just as good without them, and a little more traditional.
Recipe:  White Bean and Turkey Chili with Sweet Potatoes and Jalapeno
From: Eat Happy Meal Plan: 2/17/14
Total Prep Time: 45 minutes
Active Time: 30 minutes
Serves:  4 with leftovers
Ingredients
4 ½ cups cooked white beans, such as cannellini, from 1 ½ cups dried or 3 cans
1 lb ground turkey, preferably free-range and pasture-fed
1 jalapeno minced small, seeds removed if you want less spice
2 poblano or green bell peppers, minced (use bell peppers if you want less spice)
4 teaspoons minced garlic, from about 4 cloves
3 teaspoons ground cumin
1 ½ teaspoons ground coriander
1 teaspoon chili powder
4 cups chicken or turkey stock
2 cups chopped tomatoes, from about 1 can
1 onion, minced or chopped small
1 large sweet potato or yam, scrubbed and cut into ½ inch dice
Optional: plain yogurt, cheddar cheese, sliced green onions for topping
Extra virgin olive oil (EVOO), sea salt, freshly cracked black pepper
Directions
Heat a large soup pot or Dutch oven over medium heat.  Add some EVOO and the ground turkey and saute, breaking up the turkey into bite-sized pieces until the turkey is mostly cooked through, about 5 minutes.  Season with a little salt and pepper while cooking.
Remove the turkey to a small bowl or plate.  Add the minced onions, peppers, and spices and saute until the vegetables are soft and the spices are fragrant, about 4 minutes.
Add the stock, tomatoes, browned turkey (including any juices in the bowl), and beans and bring to a simmer.  Simmer for about 10 minutes, then add the sweet potatoes and simmer for an additional 10 minutes, just until the sweet potatoes are tender – you won't want to cook them too long or they will become mushy and dissolve.  Taste the chili and season with salt and pepper before serving.
Serve with whatever toppings make you happy and enjoy.