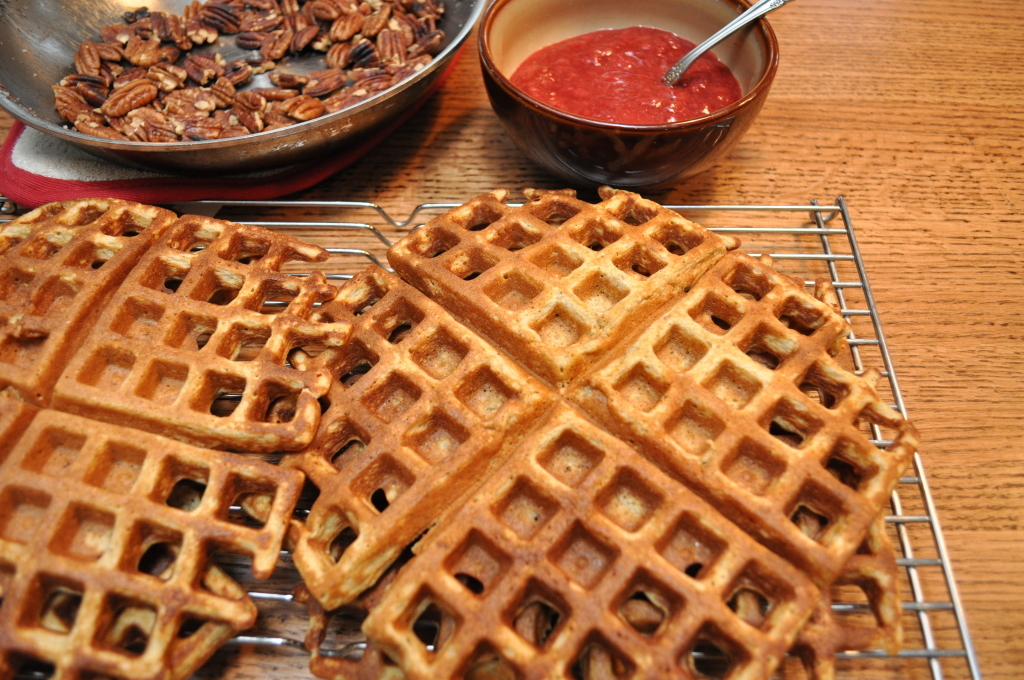 Whole grain waffles (gluten free) with fresh strawberry sauce and toasted pecans
Yesterday I absolutely delighted my daughter when she asked me what was for dinner.  I wish that was a daily occurrence, but it isn't always – she is 3, after all.  When I responded with "waffles", her immediate response was "that's crazy" (she meant in a good way!) and all through dinner she had a big smile at the treat that was breakfast for dinner.
I figured if I was going to make waffles for dinner I should make them good.  So I took a little more time and made some tasty toppings to pair them with: toasted pecans and a fresh homemade strawberry sauce.  The end result was a family-pleasing dinner treat.  And the waffles were still nutritious, as I primarily used rolled oats, ground into flour in the food processor, along with some buckwheat flour and sorghum flour (you could certainly use whole wheat or all-purpose flour).
So here is how to delight your family with dinner!
Whole Grain Waffles with Fresh Strawberry Sauce and Toasted Pecans
Ingredients:
1 3/4 cups rolled oats
1 1/4 cups any whole grain flour or all-purpose flour (I used 1/2 buckwheat and 1/2 sorghum, but you can use whatever you like)
2 cups whole milk (sub dairy-free milk if you like)
4 eggs
2-3 tablespoons honey
1 teaspoon baking powder
1/2 teaspoon baking soda
1 package frozen strawberries, with no added sugar
1 1/4 cups raw pecans
5 tablespoons butter
real maple syrup
sea salt or kosher salt
high-heat oil for your waffle maker, if necessary
Directions:
Heat a large skillet over medium heat.  Toast the oats until they smell nutty and fragrant, stirring and shaking frequently so they don't burn.  Transfer them to a food processor and process until they are essentially flour, about 3-5 minutes.  This isn't totally necessary, but it will give your waffles a delicious, sweet, nutty flavor.
Whisk together the processed oats, flours, baking powder, baking soda, and 3/4 tsp salt in a large bowl.
Melt 4 tablespoons of butter, let it cool slightly, then whisk together the milk, honey, butter, and eggs.  *If you are using 100% whole-grain flours, you may wish to take one additional step to ensure light waffles: separate the egg yolks from the whites before adding them to the batter.  Whisk the egg yolks into the wet ingredients as usual.  Beat the egg white until soft peaks form (about 3-5 minutes), then fold them into the batter as the very last step before cooking.  This will lighten the batter quite a bit.
Mix the wet ingredients into the dry ingredients.  Ideally let the batter sit for 20-30 minutes after you mix them together.  This will let the batter firm up quite a bit, especially if you are using all whole-grain flours.  In the mean time place the strawberries in a small to medium saucepan over medium-low heat.  Place a lid on the pan and let the strawberries cook down until they form a sauce.  You may wish to mash them with a potato masher or wooden spoon once or twice to help them break up.  Taste the strawberries – you can add a tablespoon of honey to make the sauce sweeter if you like.  After the strawberries have broken down and are simmering, let them simmer with the lid off of the pan for about 5 minutes, which will help the sauce thicken.  Then entire process should take 10-15 minutes.  It will thicken up as it cools down.
Toast the pecans: add a tablespoon of butter to your large skillet (you can use the same one you used for the oats) and place it over medium heat.  Add the pecans and let them toast until they've deepened in color and are crisp.  Shake or stir the pan regularly to keep the pecans toasting evenly, and add a pinch of salt to the pan to season them.  This will take about 8 minutes.  Remove the pecans from the heat when they're done.
Cook the waffles per your waffle iron's instructions and to the crispness that you like (remembering to add the egg white as the very last step before cooking, if you separated them).
Serve your delicious and nutritious waffles with the toasted pecans, strawberry sauce and real maple syrup.