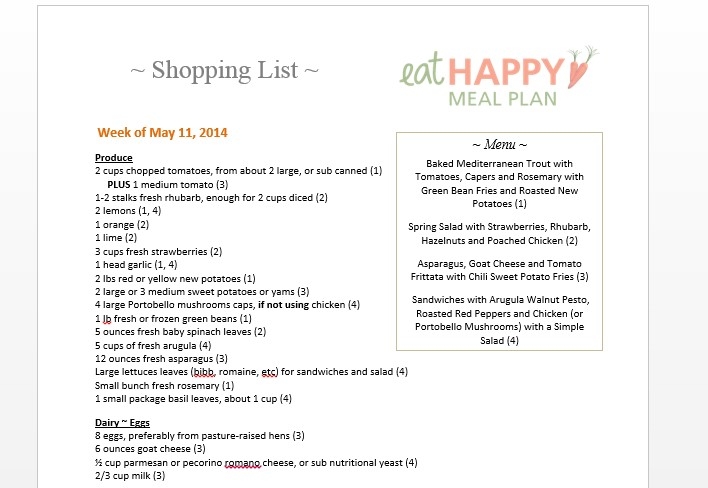 Eat Happy Meal Plan Shopping List May 11 2014
Have you thought about leveraging healthy meal plans to improve your health and make your life easier?  If you are feeling confused about what to eat, or how or what to cook to get it all in, Eat Happy Meal Plan can be your lifesaver.  After working with clients for several years I realized that, even if people were told the important foods to include in their diets, they were struggling at fitting them into their routine.  So I created Eat Happy Meal Plan to help my clients and others to make the process of planning, shopping, and cooking easier.
The meals are delicious, nutrient-dense, and based on whole unprocessed foods. Here is the menu for next weeks meal plan:
1) Baked Mediterranean Trout with Tomatoes, Capers and Rosemary with Green Bean Fries and Roasted New Potatoes 
2) Spring Salad with Strawberries, Rhubarb, Hazelnuts and Poached Chicken 
3) Asparagus, Goat Cheese and Tomato Frittata with Chili Sweet Potato Fries 
4)  Sandwiches with Arugula Walnut Pesto, Roasted Red Peppers and Chicken (or Portobello Mushrooms) with a Simple Salad
So much thought goes into these meal plans – that's time that you don't have to spend.  It's ease of mind that you're now eating a nutrient-filled diet (look at all of that produce in the shopping list!).  Here are some of the considerations that go into planning Eat Happy Meal Plan:
Every week contains a wide range of plant-based foods, including green leafy vegetables in 90% of meals as well as an abundance of high-carotenoid foods from other vegetables
At least 2 meals per week use primarily plant-based proteins such as beans and legumes, which supports the latest research on the importance of plant-based protein foods in the diet
Small amounts of only the highest quality animal proteins are used, including wild salmon and pasture-raised meats and eggs.  These foods are used strategically to maximize flavor and eating enjoyment and make the most of their nutritional benefits, although vegetarian substitution options are offered
Each week includes a diversity of flavors, types of cuisine, and cooking methods, so that you are never bored
Active preparation time is kept to a maximum of 30 minutes
The practice of "cook once, eat twice" is frequently implemented, saving you time, money, and the dreaded food boredom
Common food allergens are avoided or made substitution-friendly, including gluten, dairy and soy
With Eat Happy Meal Plan you can stop worrying about dinner.  We've got you covered.  All you need to do is follow the plan.  Common benefits subscribers notice are:
Improved satisfaction with meals, reduced or eliminated cravings for snacks and sugar
Weight loss
Reduced stress
Financial savings on groceries
Real, tangible health benefits, the most common being more energy, better digestion, improved allergies, stabilized blood sugar, and more
Eat Happy Meal Plan is your very own dinner-time health coach – the only meal plan written exclusively by a holistic health coach who understands what to eat to transform health.  Save yourself some time and energy, and start feeling better by subscribing today!  Plans are affordable at $8.98/month or less for an annual plan.