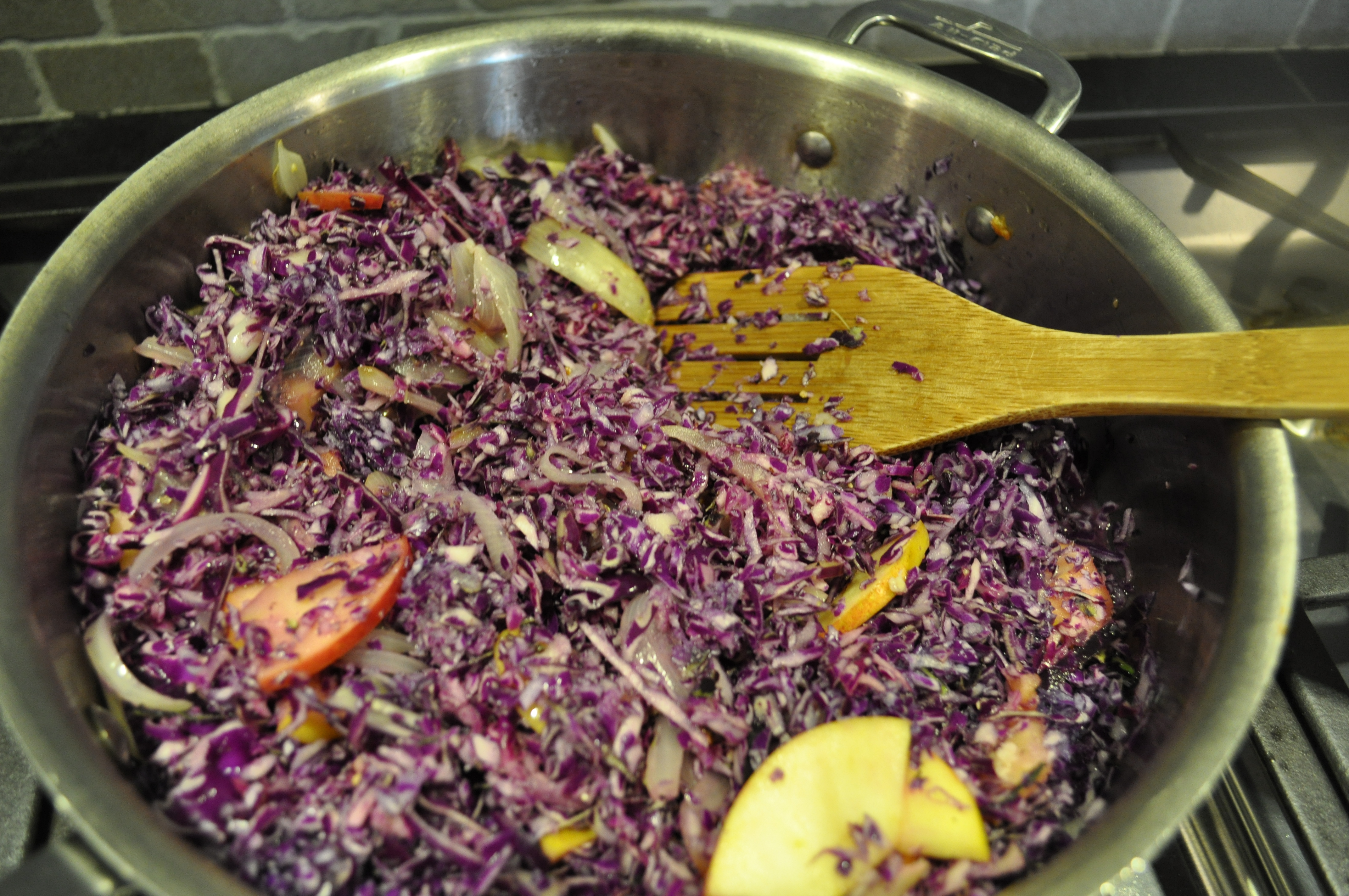 Braised Red Cabbage with Apples
If you're looking for a new vegetable dish to try  tonight I highly recommend this Braised Red Cabbage with Apples.  Here is why:
It's super easy, taking only about 10 minutes to throw together
It's pretty hard to screw up
It tastes kind of like a candied version of a vegetable, making it easy to palate for non-veggie lovers, and a treat for veggie regulars
The health benefits are through the roof, yo
It pairs really well with mashed sweet potatoes, which are also super easy, and just about any protein you want to throw together
While "cabbage" has a pretty boring and bland reputation (one that may or may not be justified depending on the dish), red cabbage is its sexy cousin.  Not only is it glamorous in color, but it cooks down to be wonderfully sweet when paired with apples, and its health benefits are sky high.
What health benefits, you ask?  Well, pretty much any vegetable in the cabbage family has anti-cancer properties thanks to its sulfur-based glucosinolates.  From whfoods.org; glucosinolates "are cabbage's trump card with regard to "anti-cancer" benefits. The glucosinolates found in cabbage can be converted into isothiocyanate compounds that are cancer preventive for a variety of different cancers, including bladder cancer, breast cancer, colon cancer, and prostate cancer."
But red cabbage is also especially high in antioxidants thanks to its deep red, actually purple, color.  Here's another little snippet from whfoods.org:
"A recent study showed that a 100 gram (about 3 ounces) serving of raw red cabbage delivers 196.5 milligrams of polyphenols, of which 28.3 milligrams are anthocyanins. Green cabbages yielded much less per 100 grams: 45 milligrams of polyphenols including 0.01 milligram of anthocyanins. The vitamin C equivalent, a measure of antioxidant capacity, of red cabbage is also six to eight times higher than that of green cabbage."
So, the recipe.  I basically used this simple recipe from Martha Stewart.  I added a clove of minced garlic, used honey instead of sugar, and simmered it a bit longer so that the cabbage was nice and soft, but otherwise used the same simple ingredients of cabbage, apples, apple cider vinegar and onion.
This was absolutely delicious paired with some mashed sweet potatoes (steam cubed sweet potatoes then mash with a little butter and maple syrup) and some slow cooker pulled pork I had left over in the freezer (not the bbq kind, just cooked with some stock and some herbs).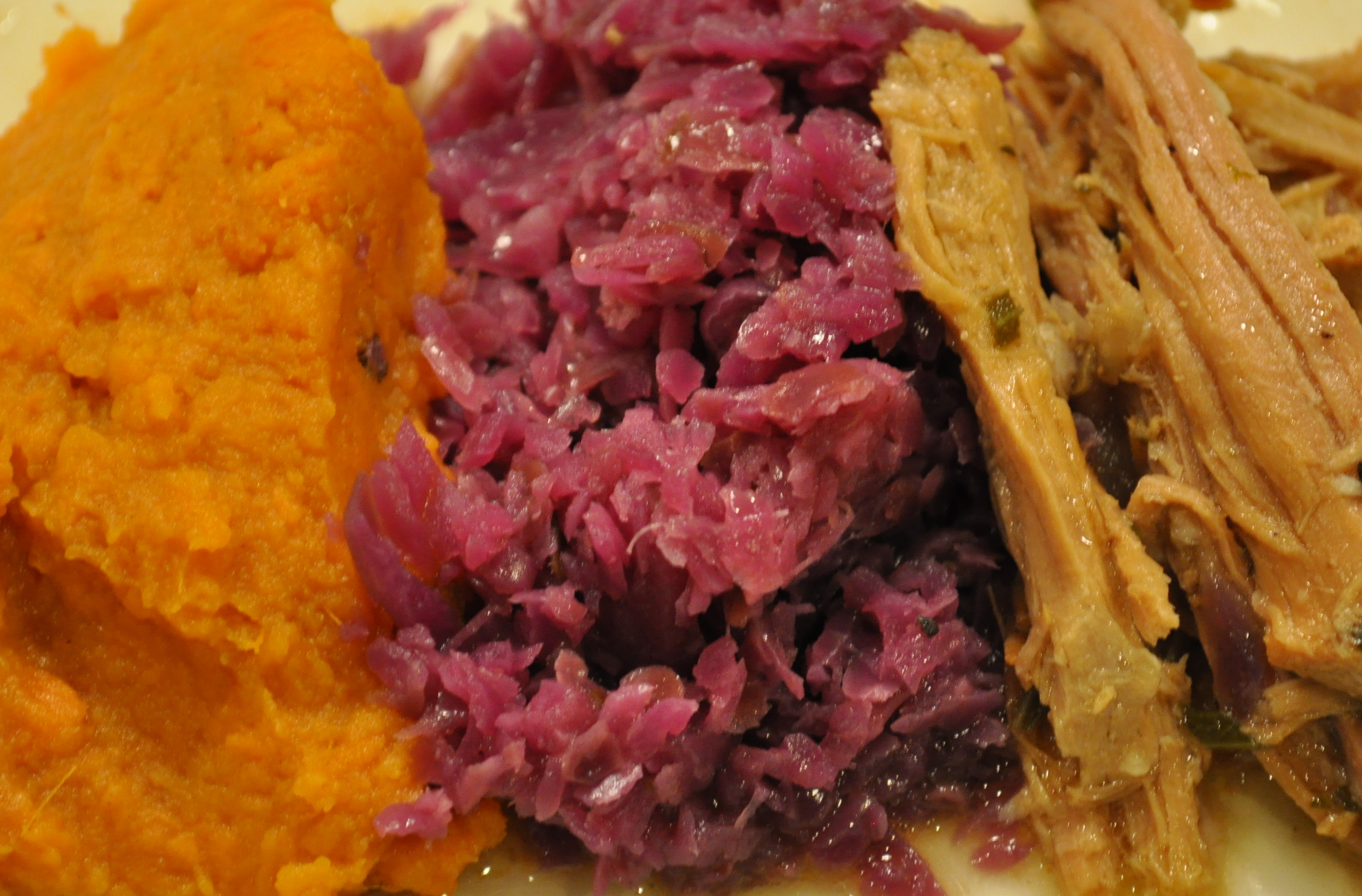 Braised red cabbage with mashed sweet potatoes and pulled pork
Food that tastes great and is awesome for you is what Eat Happy is all about!  For more great recipes and Eat Happy check out the book, now available on Amazon.  A facebook like is always nice, too.