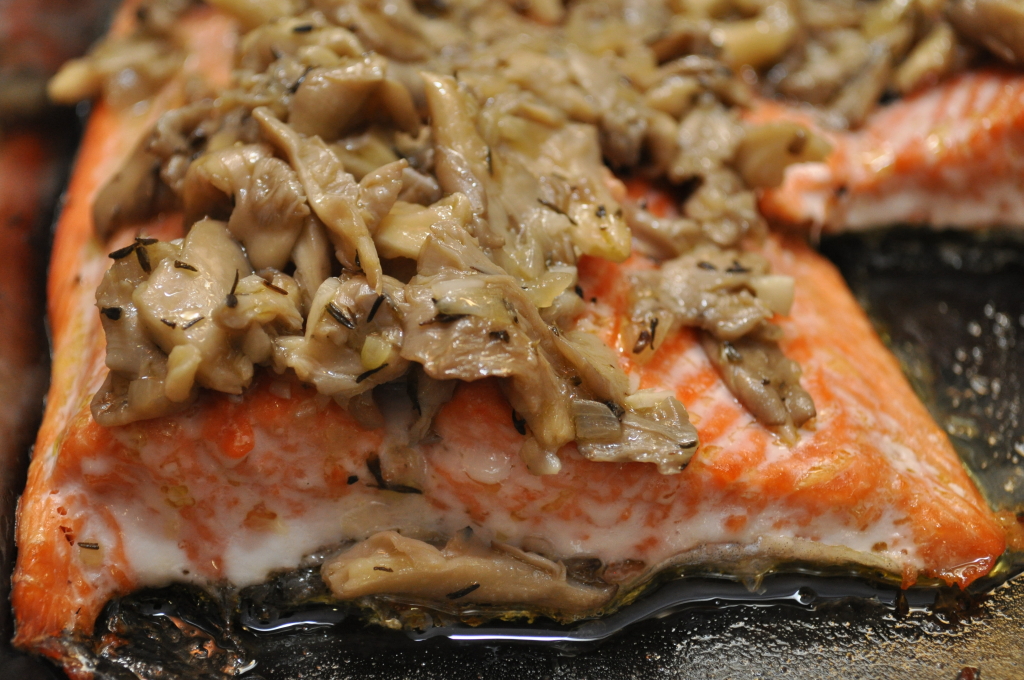 Wild Coho Salmon with Sauteed Mushrooms and Shallots
It's the tail end of salmon season.
 On the other end is the vibrant, deep orange-red, velvety, wild Coho salmon.  Coho salmon is only one of the multiple varieties that lives wild in the pacific northwest, but it is one of my favorites.  Here he is in all his glory:
All you need to accomplish fancy-restaurant-quality salmon is a good-quality fish and to not overcook the bejeesus out of it.  The good-quality fish is really key.  And getting fresh fish that hasn't been frozen is really a nice treat – the texture is buttery and smooth.  At my grocery store some beautiful Coho salmon is available through the first week of October.
I decided to pair my lovely salmon filet with some oyster mushrooms from the farmer's market, a little dried thyme, and some minced shallot.  Easy peasy.  I sauteed the mushrooms and shallot while the fish was roasting in the oven.
My rather large, 1 1/3 lb salmon filet was too big to fit into a 13×9 inch baking dish, so I cut that bad boy in half and he was snug as a bug.  He was done roasting in 15 minutes.  Just enough time to saute my fungi.
I served this with some roasted red new potatoes and some collard greens sauteed with a little tomato.  Get this recipe in the context of its complete meal-plan by signing up here.
Coho Salmon with Sautéed Mushrooms and Shallots
From Eat Happy Meal Plan
Total Prep Time: 25 minutes
Active Time: 25 minutes
Serves:  4
Ingredients
1 [...]