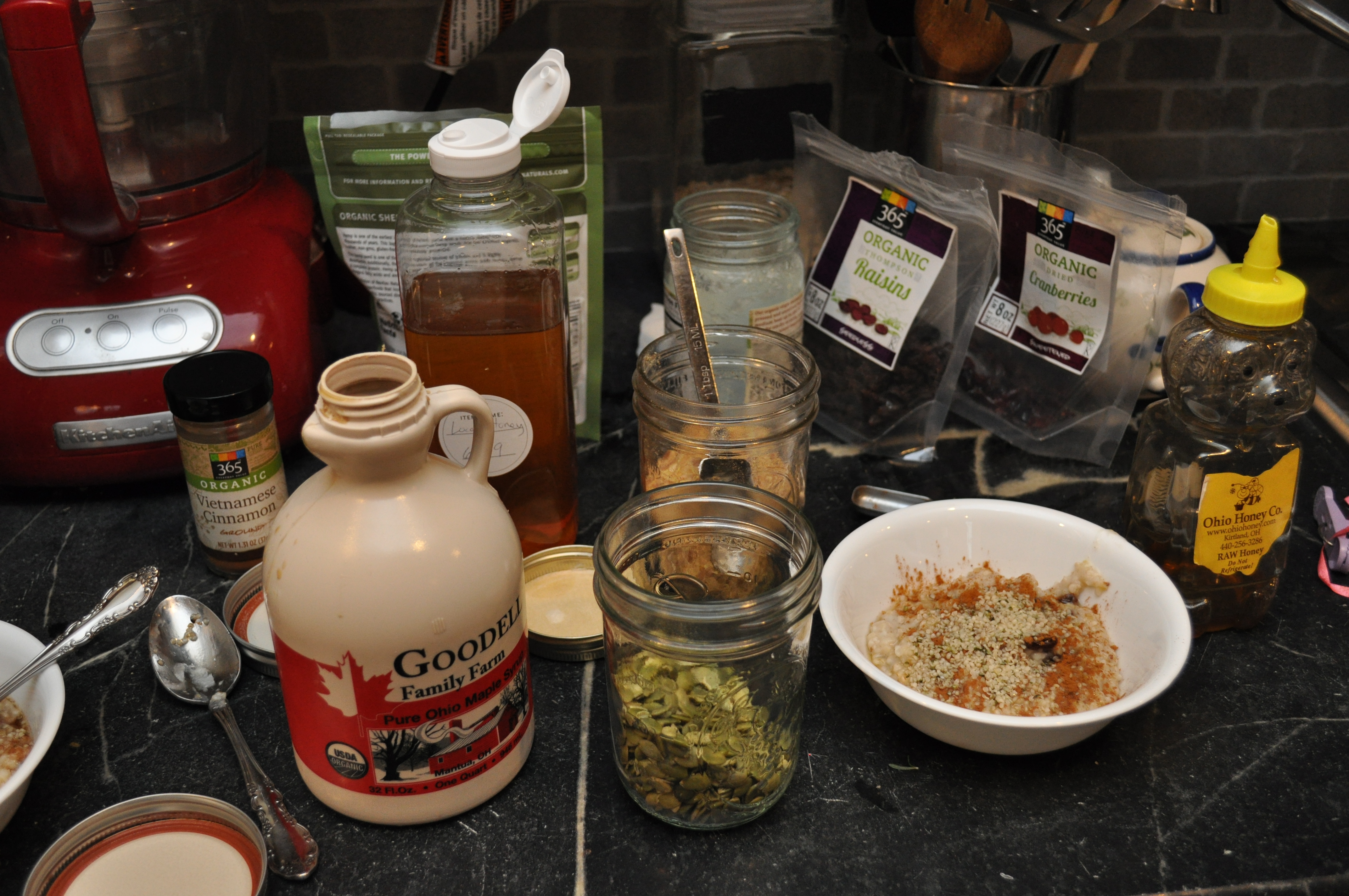 Oatmeal Breakfast Bar
We have four breakfast eaters in our house, including one toddler and one four-year old, and not everyone is always delighted about the idea of an oatmeal breakfast.  While I'm happy to make other things for breakfast when there's time, oatmeal is such dependable staple we've figured out how to make it stay interesting and attractive…for everyone!
The secret is the Oatmeal Breakfast Bar.  Like a taco bar – but for oatmeal.  A variety of toppings that each person can pick to customize their oatmeal just how they like it.  Even though there may be a large number of toppings at play, more toppings doesn't necessarily translate into more time or effort if they're all easily accessible.
This morning I glanced at my counter (picture above), and realized that the number of oatmeal toppings we have on a daily basis is  a little bonkers.  But it's really ok – I just pop things out of the fridge or cabinet – both of which are within arms' reach of the counter.
This all evolved quite naturally, thanks to a very picky toddler.  At times the requests get a little obnoxious (syrup and cinnamon on top of the oatmeal – not mixed in, etc).  Even with the super picky requests we've managed to keep everyone happy over the years while only cooking one main ingredient: oatmeal.
So here's what we have going on currently in our "toppings bar":
Cinnamon
Raw honey
Real maple syrup
Raisins
Dried cranberries
Coconut oil (this really helps the oatmeal stick with you through the morning)
Hemp seeds for protein – you could also add any kind of nuts you like
Pumpkin seeds – full of protein and minerals, and store easily in the freezer
Ground flax seeds – this helps keep my constipation-prone four-year-old regular
To make things extra fast I recommend soaking steel cut oats overnight.  Just bring them to a boil on the stove, place the lid on top, and leave them there until morning.  Bring them back up to a boil before you want to eat them until any remaining liquid is absorbed, which should only take about five minutes.  Oftentimes we also add frozen berries, which is especially helpful to cool the oatmeal down quickly.
If everyone in your house has individual tastes try this oatmeal bar!  You'll get a lot of individuality with a minimal amount of effort.
My current favorite: steel-cut oats with a little coconut oil, flax seeds, hemp seeds, pumpkin seeds, maple syrup and cinnamon: