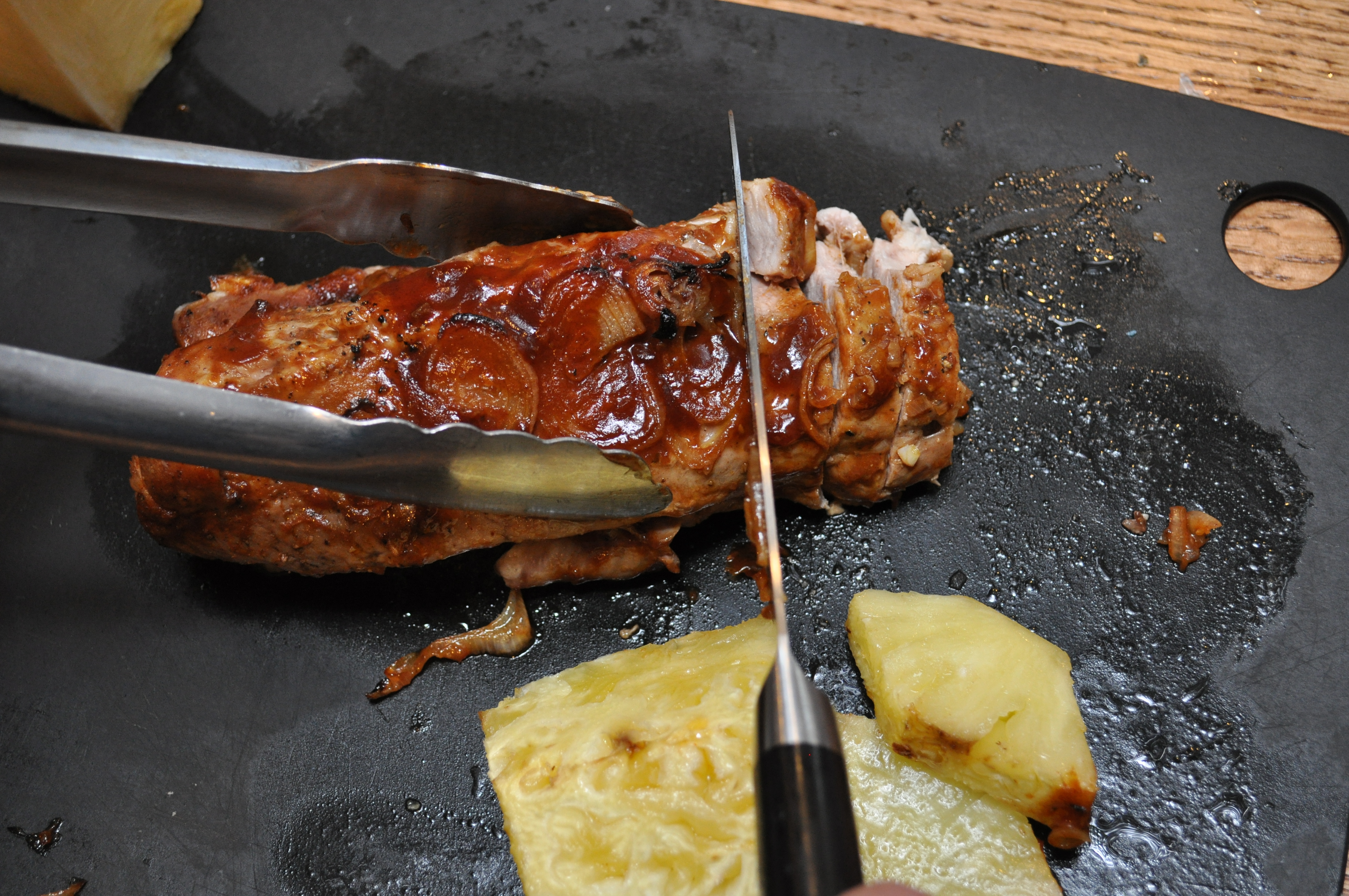 Roasted Pork Tenderloin and Pineapple with Barbecue Glaze
I just made this Roasted Pork Tenderloin and Pineapple with Barbecue Glaze last week, and I already want to make it again.  It went quickly in my house – I think my husband took care of the leftovers before I had a chance to.
I post a lot of vegetarian and vegan recipes on this blog, which I love, but I do eat meat a couple of times a week in small quantities.  I tried being vegetarian once and I just felt…deficient.  So I've accepted that this is what I need for now and I buy naturally-fed meat from ethically-raised animals from our local farmer's market and feel pretty good about it.  As a health coach I find it's important to honor what your body needs.  The reality is that we evolved eating animals and on an intuitive physical level many of us may just need it to thrive.  Traditional Chinese Medicine recognizes the importance of meat in building strength and vitality.  True story: at my first appointment with an acupuncturist the doctor said, "I don't have to worry about you becoming a vegetarian, do I?" (I did make the vegetarian attempt not too long after that, with short-lived and totally unsuccessful results).
Many of us in the holistic nutrition world may feel pressure to be vegetarian, or vegan, and as I said it is important to listen to your body.   Some thrive on a vegetarian diet and I've seen others actually become more ill after becoming vegetarian!  That said, most Americans will benefit greatly from both eating fewer animal products and buying better quality.  The upside is that when you buy better quality, yes, it may be more expensive, but it will also taste so much better.  You'll need less.  Flavors are richer, textures are better, and you'll feel good about what you're doing for the world and environment, too.
But anyways, I didn't mean to get too off topic.  That's all I'll say about that, and now on to this delicious recipe!
Pork tenderloin is just awesome for a lot of reasons.  It thaws and cooks super fast, takes a variety of flavors well, and is a great meat for glazing – a tasty way to go in my opinion since I like sweet things.  In this recipe I cut a whole pineapple length-wise to roast right alongside the pork, and then cut them both into 1/2 inch thick slices to serve together.  It makes for a pretty plate.  Don't be intimidated by the length of the directions below, almost all of it has to do with how to cut your pineapple!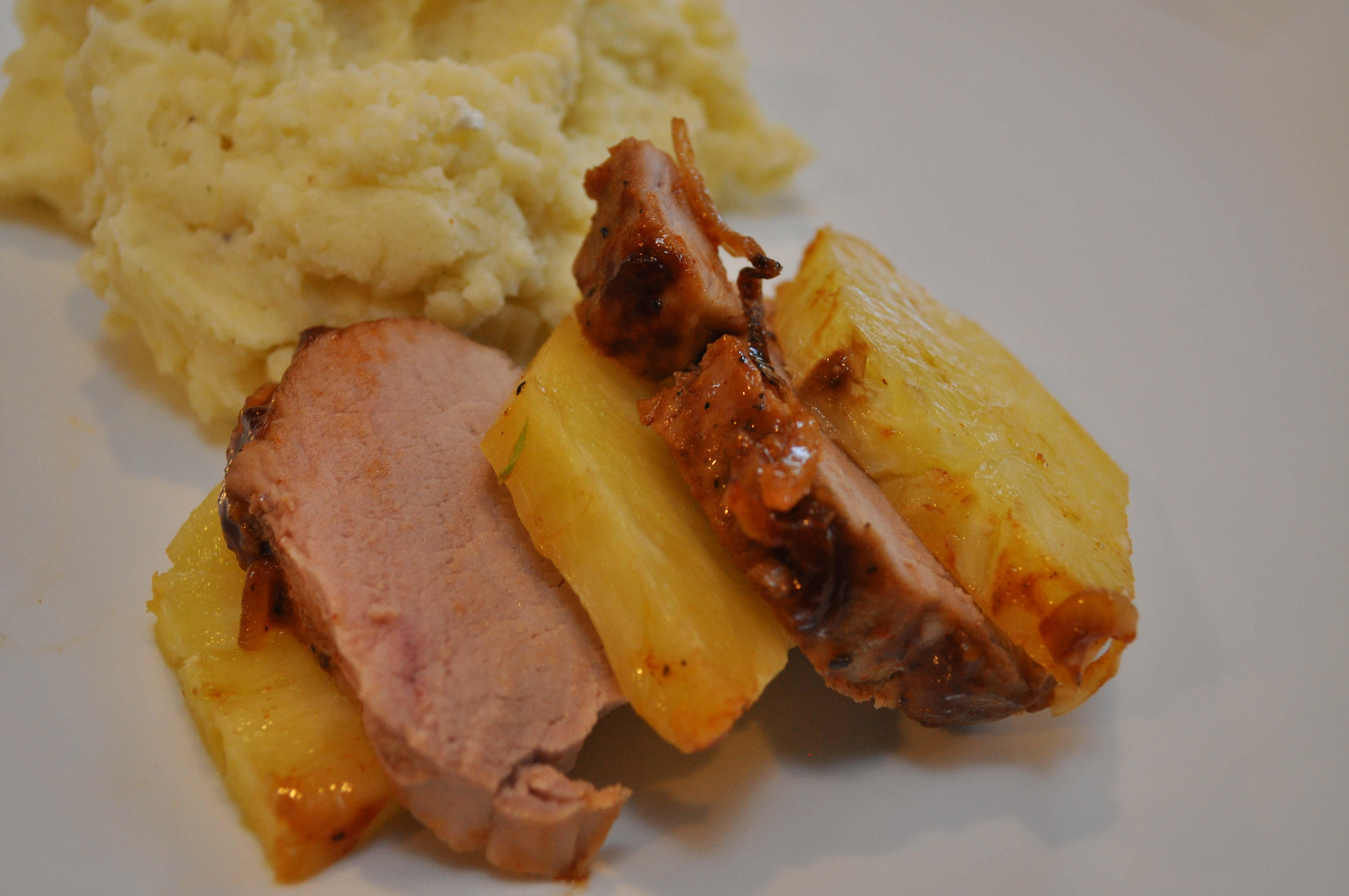 Pork tenderloin with pineapple and barbecue glaze plated
Roasted Pork Tenderloin and Pineapple with Barbeque Glaze
From Eat Happy Meal Plan
Total Prep Time: 45 minutes
Active Time: 15 minutes
Serves:  4
Ingredients
1, 1-1 ½ lb pork tenderloin, thawed if frozen, hormone and antibiotic free
1 pineapple, can be completely uncut, or peeled and cored if you prefer
2 tablespoons tomato paste
2 tablespoons honey or maple syrup
1 teaspoon onion powder
1 teaspoon yellow mustard
2 teaspoons Worcestershire
1 teaspoon apple cider vinegar
1 shallot, thinly sliced or chopped
Extra virgin olive oil (EVOO), sea salt, freshly cracked black pepper
Directions
Pre-heat your oven to 425 degrees.
Place the pork tenderloin in a shallow roasting dish.  Sprinkle it generously with salt and pepper and drizzle with a little EVOO.
Peel and core the pineapple, if it's not done already:  the easiest way to peel a pineapple is to first cut off the bottom (approximately an inch so that it's flat), and then the top.  Then set the pineapple right side up on a cutting board, hold it at the top so that it doesn't slip, and work your way around the pineapple cutting the exterior skin off in approximately 2-3 inch sections at a time.  Your knife should be starting at the top of the pineapple and cutting straight down to the bottom, removing long vertical strips of the exterior.  When you've finished removing the exterior, quarter the pineapple length wise, again cutting top to bottom you'll have 4 long wedges).  Pineapples have a tough inner core, so try to cut through the middle of that core.  Then lay each quarter flat on the cutting board and remove the inner core from each piece by cutting on an angle into the wedge.  It doesn't have to be perfect – some cores are tougher than others, and some people even prefer to eat the core!  If you bought your pineapple pre-cored and peeled, simply quarter the pineapple length-wise so that you have 4 long sections.
Place 2 of the pineapple quarters in the roasting pan with the pork.  Season with a little salt and pepper.  Insert a meat thermometer into the center of the pork, if using, and place in the oven to roast.  Roast for approximately 15 minutes.
Meanwhile whisk together the glaze ingredients: tomato paste, honey/maple syrup, onion powder, mustard, Worcestershire, and vinegar.  After 15 minutes use a spoon to spread the glaze around the tenderloin evenly.  Then place back in the oven until the pork reaches an internal temperature of at least 145 degrees (approximately another 10-15 minutes).  Let the pork sit for 5 minutes before slicing it and the pineapple into ½ inch slices.  For pretty serving you can alternate them on the plate.