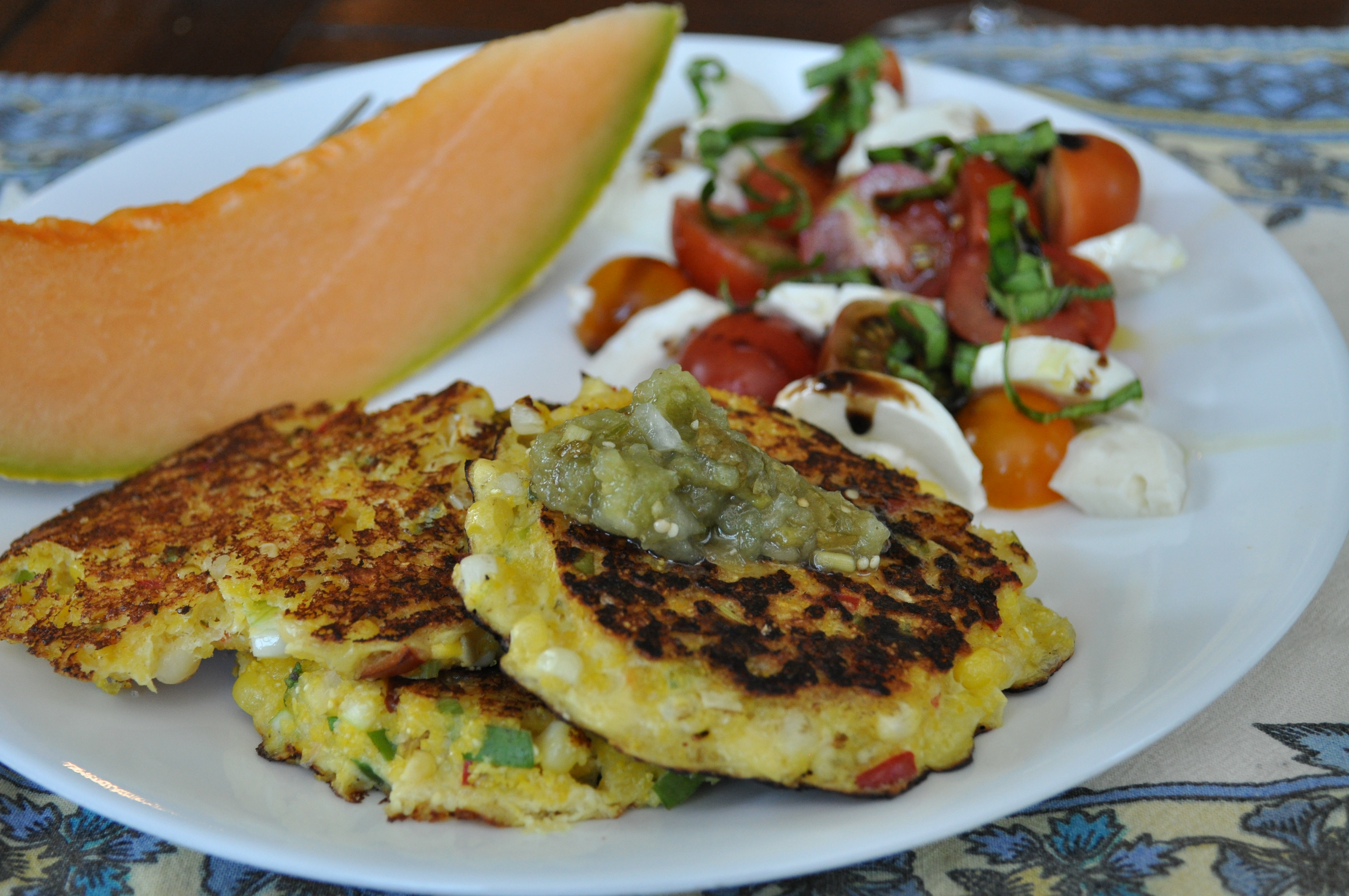 Summer sweet corn, polenta, peppers and scallions combine to make a sweet and savory dinner treat
Sweet corn in the summer is the best.  Most of the time I simply steam it and slather on a little butter and sea salt and I am one happy camper.  When I want to make sweet corn the centerpiece of a delicious but simple dinner, I'll make some form of a corn fritter.  I've made corn and zucchini fritters, corn and pepper fritters, and straight up corn fritters.  Usually I use some form of flour or breadcrumb to bind them (gluten free in my case), but this time I thought, why not use polenta?  I gave it a try and voila, my favorite corn fritter yet: Sweet Corn and Polenta Fritters.
It makes perfect sense, I'm not sure why I didn't think of it before!  Really the only tricky thing about fritters is getting them to stick together through the first flip, and making them gluten free adds just a hint more of a challenge, especially since I don't like to use a lot of gf flour.  Polenta is very stable – it even makes a great pizza crust (Polenta Pizza is a staple in my house).  And what could go better with corn, than more corn?  It's a match made in heaven.
These corn fritters are sweet, savory, and the texture is fantastic.  The polenta gives them heft so they're filling enough for a main course, and makes the fritter flipping easy peasy.  They're naturally gluten free, and substituting dairy-free milk or yogurt can make them dairy free as well (just give them a few more minutes to firm up before cooking).
Serve them with whatever you like; a simple slice of heirloom tomato, a dollop of plain yogurt seasoned with salt and pepper, or a little green salsa.  They'll make a great finger food for on-the-go as well.
Enjoy!  For more Eat Happy recipes be sure to check out my new book.
Sweet Corn and Polenta Fritters
Total Prep Time: 30 minutes
Active Time: 30 minutes
Serves:  4
Ingredients
3 cups fresh corn kernels, from about 4 cobs
2 eggs
1 cup coarse corn meal (polenta)
1 tsp baking powder
4 scallions, white and green parts thinly sliced
1 cup plain yogurt or kefir or milk (non-dairy is fine)
1 tsp finely minced garlic, from about 1 clove
½ cup shredded or grated parmesan/pecorino romano cheese (optional)
½ cup minced pepper (can be sweet bell peppers or spicy, depending on your tastes)
1/8 tsp or less cayenne pepper, optional
Recommended toppings: green salsa, sliced tomatoes or avocado, a little more plain yogurt
Butter or high-heat oil (grapeseed, coconut oil), sea salt, freshly cracked black pepper
Directions
In a large bowl whisk together the corn meal, baking powder, ½ tsp salt, several grinds of black pepper and cayenne (optional). In another bowl combine the eggs, yogurt, garlic, minced pepper, cheese, and scallions and stir together until the eggs are well integrated.  Combine the wet and dry ingredients and mix well, then let stand to give the mixture an opportunity to firm up.
Heat a couple tablespoons of butter or high-heat oil in a large skillet over medium heat (I like to use cast iron), and spread it evenly around the pan with a silicon spatula. When the pan is hot, add batter in large spoonfuls (about 3 tablespoons each), cook until brown, then flip and cook on the other side.  I like to use a medium ice cream scooper to make this easy.  The fritters will take about 3-5 minutes per side, cooking longer on the first side than the second.  The fritters will firm up substantially while cooking.  Adjust the heat as needed so that the fritters don't burn.
Here they are cooking.  I really love this stove-top griddle, which makes cooking fritters and pancakes so much faster.  It's very affordable, too.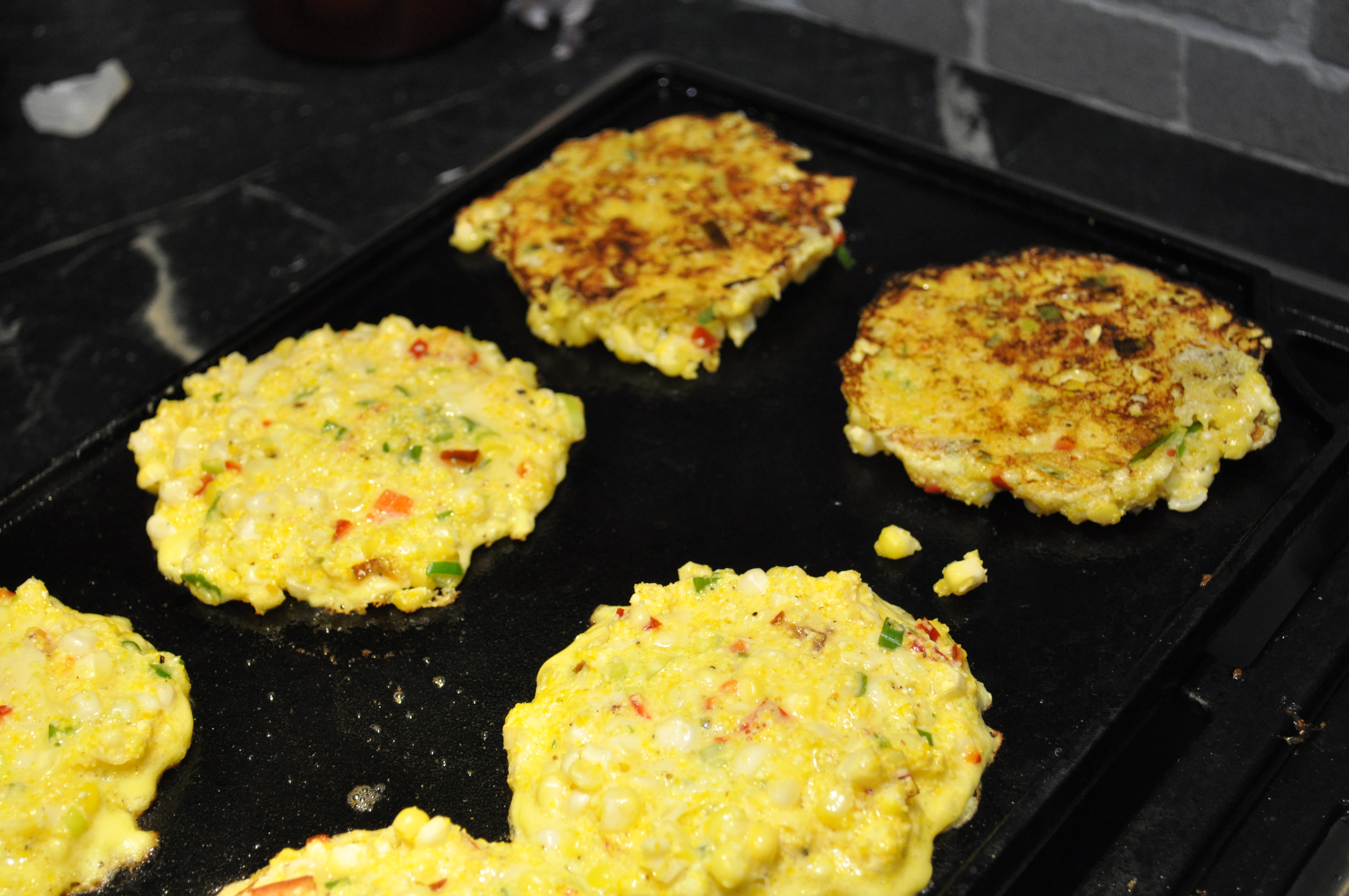 Sweet corn and polenta fritters on the griddle