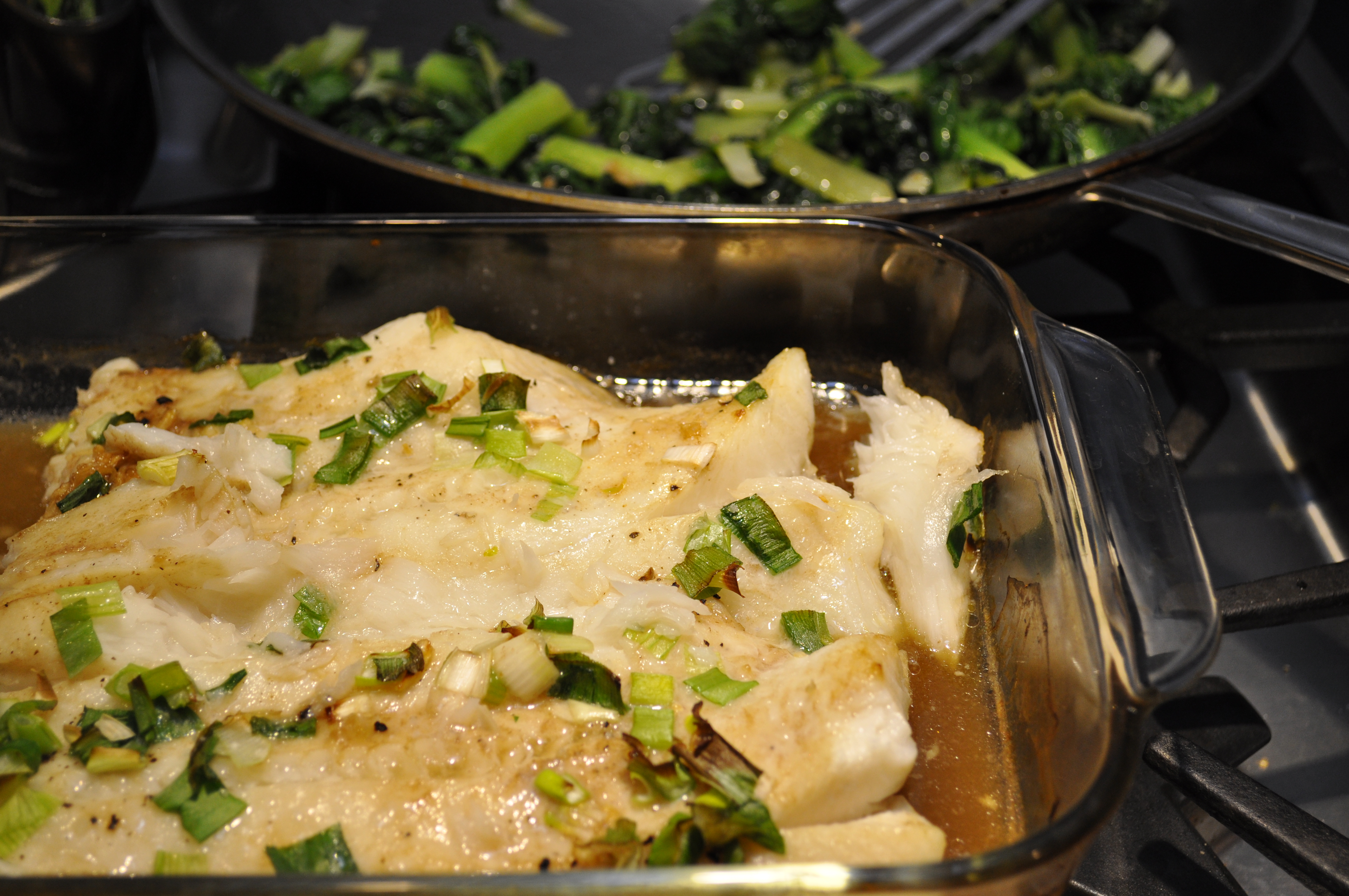 Soy and Honey Glazed Turbot with Garlic Greens
Life moves pretty fast with three kids, and it's been a while since my last post.  Since I've taken on full-time stay-at-home parenting, I've been busy to say the least: diapering, rocking, potty-training, potty-training cleaning, pre-school transporting, and yes, cooking.  I'm always cooking.  I've come to really, really appreciate easy recipes like this Soy and Honey Glazed Turbot.
Now that I'm not spending so much time writing and developing meal plans, I'm free to actually use my old ones.  People would frequently ask me if I followed my meal plan and my answer was always, unfortunately not.  The reality was that I was always testing new recipes and figuring out what would be on the next week's menu.
But now I am liberated!  (Sad as it is to not be writing new plans!)  Now I pick a meal plan, give the shopping list to my husband on the weekend, when he takes our 4 year old out on errands, and follow the plans that I took so much time to produce for others in the past.  I am happy to report that they're pretty darn nice to have around.  Fantastic, actually, not to pat my own back or anything.
Over the past few years I've written literally hundreds of recipes.  Some were really great, but I only made once or twice (others were not so good, but I didn't use those in my plans!).  So in using my old meal plans I'm rediscovering some of those recipes.  This Soy and Honey Glazed Turbot is one that I hadn't made in at least a year or two, which is too bad because it's so easy and really delicious.  It's slightly sweet but also has great umami from the soy sauce (or coconut aminos for those with soy allergies), and a few sliced scallions make it very fresh.
Don't be intimidated by fish.  Fresh fish is simply one of the easiest meals to prepare.  Your fish monger will do all the work for you, providing a filet that simply needs to be placed in a pan and topped with the glaze.  Good quality fish is more forgiving than, say, chicken or pork regarding cooking temperature and doneness;  if it's a little under-done you don't really risk food poisoning (think sushi!) and if it's a little over-done it won't get as dry and chewy as meat (given the choice I'd skew towards under-done – you can always cook longer).  Turbot is a great wild-caught fish that is mild, widely available, and has great flavor and texture.
This recipe pairs perfectly with some greens sauteed in garlic and a little quinoa cooked in broth or stock for flavor.  It's a light meal that is robust in flavo, making it very satisfying.  The kids will like it, too, thanks to that little bit of honey in the glaze!  For anyone looking to take advantage of my old meal plans, contact me at alissa@eathappynow.com to learn how to get access to a year or archives.  They're a life-saver!
 Soy (or Coconut Aminos) and Honey Glazed Turbot with Garlic Greens
Ingredients
2 tablespoons honey (local honey is best)
2 tablespoons soy sauce or coconut aminos
2 teaspoons minced garlic, from about 2 cloves
2 tablespoons white wine or rice vinegar (seasoned rice vinegar is fine)
1 ¼ lbs wild Turbot filets
1 bunch scallions, rinsed and chopped into thin circles – both white and green parts
1 lb spinach or other leafy greens, rinsed and chopped if leaves are large
Sea salt and freshly cracked black pepper
Directions
Mix the honey, soy sauce, vinegar, 1 teaspoon of minced garlic and 2 tablespoons of EVOO in a small bowl.  Set aside.
Place the fish in a baking dish, skin side down if it has any, and pour the marinade evenly over the top.  Sprinkle with 2/3 of the scallions.  Cook until it is cooked through and flakes easily (about 15-25 minutes, depending on the thickness and size of the filets).
While the fish is in the oven, heat another 2 tablespoons of EVOO in a large sauté pan over medium heat and add the garlic.  Let the garlic saute until it has infused the oil, taking care not to let it burn.  Add the spinach and saute until just wilted, seasoning with a little sea salt and pepper to taste.
Serve the fish and greens over top of quinoa or brown rice, drizzled with a little of the sauce that has formed in the baking dish and topped with the remaining fresh scallions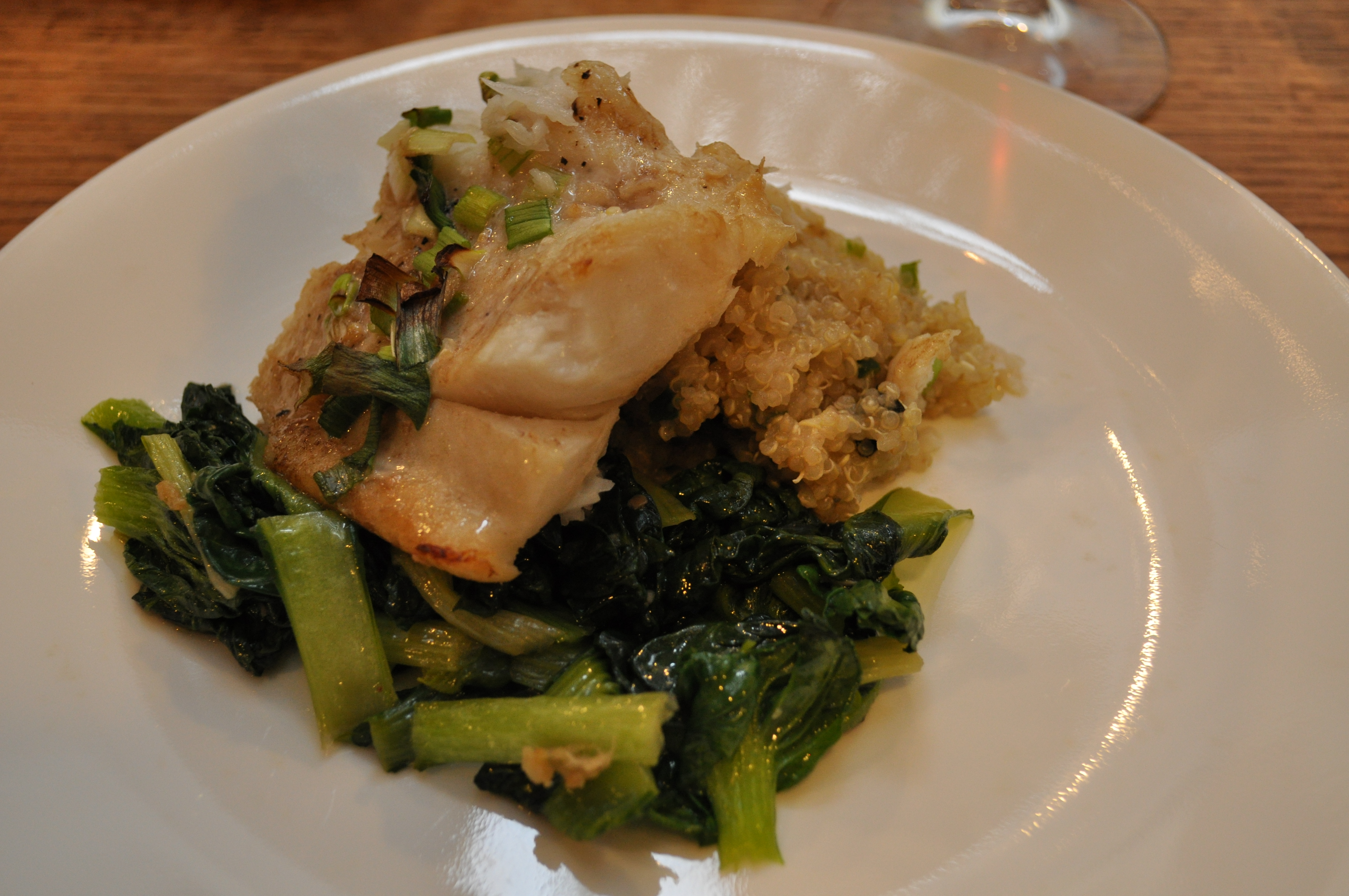 Soy and Honey Glazed Turbot over Quinoa