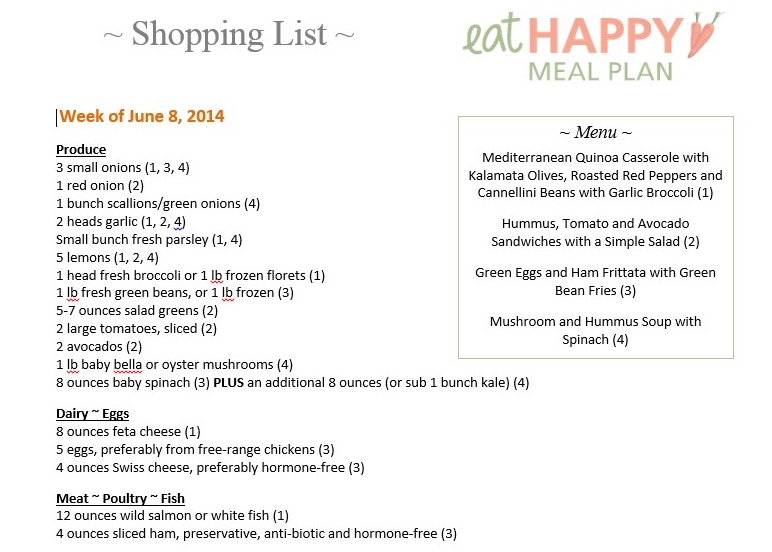 Eat Happy Meal Plan Shopping List June 8, 2014
I don't know anyone who cringes at Mediterranean food – it's so delicious! – so why not devote a week of healthy meal plans to this wonderful cuisine?
This happened quite by accident, as I started with lovely Hummus, Tomato and Avocado Sandwiches, which led to a savory Mushroom and Hummus Soup with Spinach (need to make the most of hummus leftovers!), and then a filling Mediterranean Quinoa Casserole.  Since it's spring and the local farm eggs are amazing, I added a quick and filling Green Eggs and Ham Frittata to the mix.
Eat Happy Meal Plans are all about eating the most health-supportive ingredients in the most enjoyable ways, saving time, energy, and money.  Each of these meals is prepared in 30 minutes or less of active time, and using the "cook once, eat twice" strategy you can get a super-fast yet completely different meal out of leftovers (this week using hummus).  Homemade hummus is so easy and economical, if you've never made it before…let's just say you'll be pretty happy with yourself.
Sign up today to get your Eat Happy Meal Plan each Thursday in your inbox.
For free recipes and meal tips like us on Facebook!