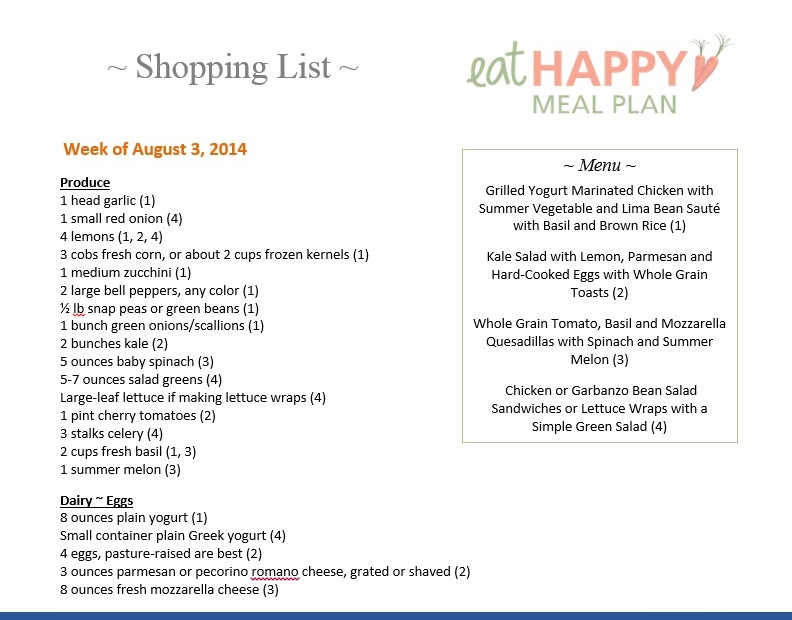 This Eat Happy Meal Plan menu can transform your relationship with dinner, if you let it!
 This is the meal plan menu for next week, August 3-9th.  Can you believe it's August already!
This summertime menu highlights summer produce and makes cooking times as minimal as possible.  No one wants to slave over the stove when it's 80 degrees outside!  These simple recipes will help you stay cool and nourished all throughout the week.  Next week you can enjoy these delicious dinners:
Grilled Yogurt Marinated Chicken with Summer Vegetable and Lima Bean Sauté with Basil and Brown Rice
Kale Salad with Lemon, Parmesan and Hard-Cooked Eggs with Whole Grain Toasts
Whole Grain Tomato, Basil and Mozzarella Quesadillas with Spinach and Summer Melon
Chicken or Garbanzo Bean Salad Sandwiches or Lettuce Wraps with a Simple Green Salad
Enjoy meals that are homemade, fast, nutrient-dense, and full of fresh flavor with this meal plan.  Along with the full meal plan menu and shopping list, you'll receive the easy-to-prepare recipes and a calendar for the week that describes how to prepare in advance for a super efficient week of dinners.
Sign up today to get your this Eat Happy Meal Plan in your inbox.  You'll be loving dinner next week!