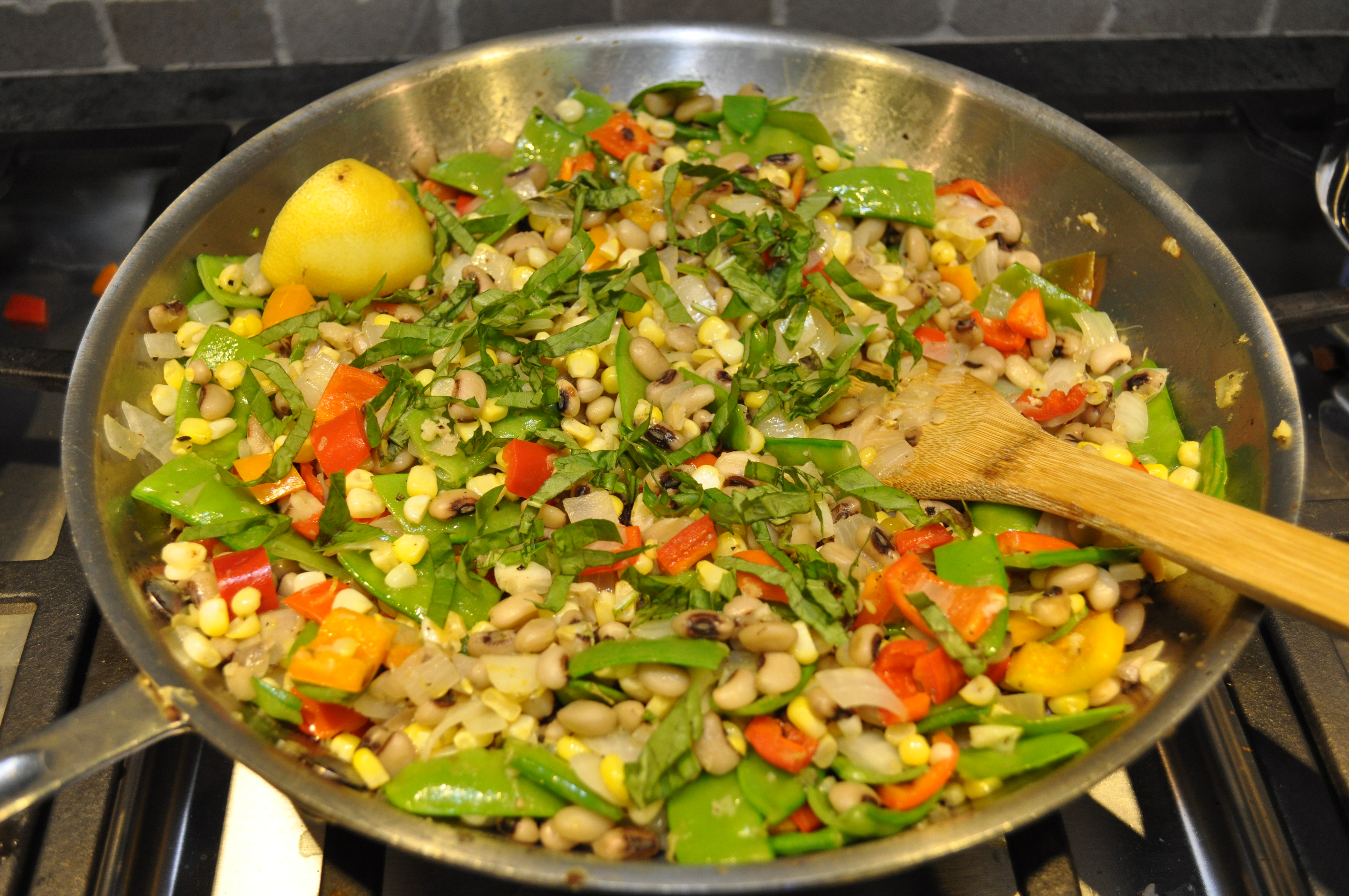 Summer veggies saute
Let me set the stage: it's 4pm and I"m madly rushing to finish chapters on the manuscript of my first book, which I'm so excited about.  If I get it done in the next week I'll have an awesome opportunity to present and advertise my book at the Institute for Integrative Nutrition Conference in November, attended by 10,000 people!   So exciting, so cool.  I have to do this.
My 2 year old and 4 year old are screaming at each other downstairs, my sitter is off in an hour, and I'm 38 weeks pregnant, uncomfortable, grumpy, and rather stressed.  Dinner time looms.  I have Eat Happy Meal Plans that I need to schedule in advance over the next few weeks so I can take a mini-break when the baby comes.  The baby room isn't set up, no bags have been packed, and I'm banking too much on the fact that my other two kids were nearly two weeks late.  I need more time to get everything done.
I have wanted to order pizza for the kids for dinner, pretty much every night for the last few weeks, and tonight is no exception.  The leftovers are gone and I've pretty much exhausted my go-to quick and healthy dinner ideas.  They'd love the pizza obviously.  But it's not going to do them any favors (they're just getting over a summer time cold), it won't really do me any favors, as it's not exactly a go-to food to enhance my productivity (quite the opposite).  My book, by the way, is called OverProcessed and Underfed, and is all about how processed food is problematic, and how to easily transition to real food.
Anyways, I get how hard it can be to work up the motivation to put real food on the table. This above scenario was last night.  I meandered around the kitchen and pantry for a while, taking into account what was available and could be made quickly into some semblance of a meal, all the while thinking that I could fall back on the pizza.  The kids weren't completely attacking each other, which was helpful.
Ultimately I was persuaded by all of the farmer's market produce still hanging out in my fridge; it's Thursday and it needs to be eaten.  Snap peas, fresh corn, and some cute sweet peppers called "sweeties" that everyone loves don't require much prep or cooking time.  I have some purple rice that cooks in 30 minutes, and some fully cooked and frozen  black-eyes peas that can thaw in the saute pan.
A few cloves of garlic, juice from a lemon, some salt and pepper.  It's all that I felt like mustering up.  The kids picked some basil from the garden (the 2 year old slammed the door on the 4 year old in the process, resulting in some screaming, but they still seemed to have fun with it).  Dinner was ready in 30 minutes.  In retrospect it wasn't much harder than going to pick up pizza would be.
Seems silly but it still feels like a small victory.  That doesn't mean pizza isn't happening tomorrow night.   But for tonight, anyways, we all get some very fresh and rather beautiful food.  Even better, there are leftovers for lunch.