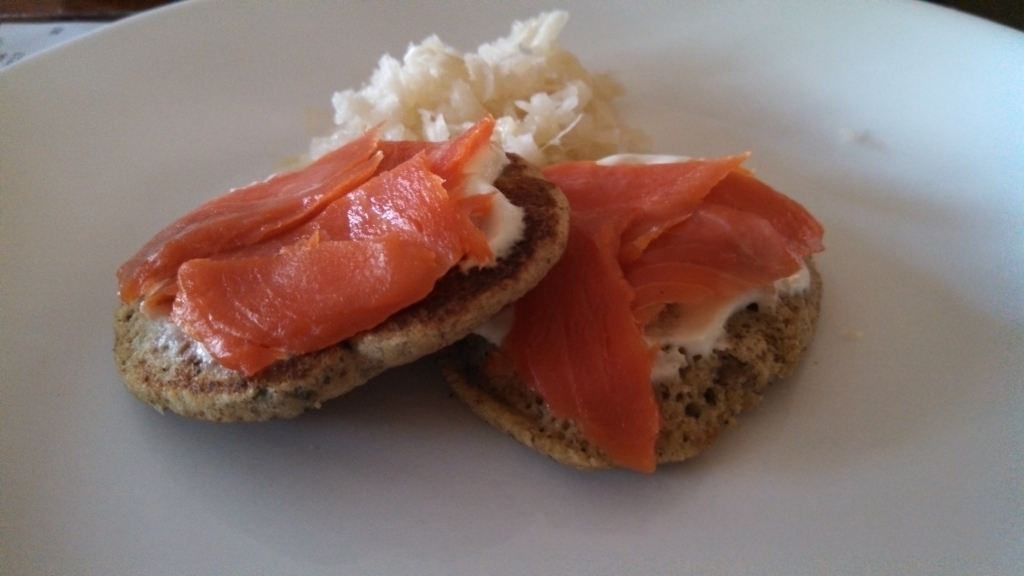 Buckwheat Blinis with Smoked Salmon, Lemon Sour Cream and Sauerkraut
A special sneak-peak from next week's meal plan menu!
I loved smoked salmon well before I knew much about the nutritional benefits of this awesome fish.  It's smoky, salty, buttery, and wonderfully satisfying.  And, it doesn't require any preparation on my part!  I just buy the good wild stuff from the grocery store (which, btw, is so much better than farm-raised, I can't even emphasize it enough).
For a lightning-fast meal you can put smoked salmon on whole grain tortillas or pita pockets, but if you have just a few minutes to whip up a homemade batter, it's especially delicious on these warm buckwheat pancakes.  The nuttiness of the buckwheat pairs beautifully with the smoky salmon and sweet, refreshing lemon sour cream.  I also love the addition of tangy sauerkraut, which boosts the nutritional value of the meal, but if you're not a fan you can always leaves this out, or eat it on the side.
As with most pancakes, the real time investment is in the actual cooking – pouring, flipping, repeat, etc.  But here it all works out, because while you're flipping your pancakes you can mix up the quick lemon sauce, throw together a salad, pour yourself some white wine, or do whatever else you need to do.
If you think smoked salmon on pancakes will make your kids (or husband, or roommate?) look at you like you have lobsters coming out of your ears, never fear: these pancakes are perfect with any number of alternative toppings.  Peanut/almond/sunflower [...]