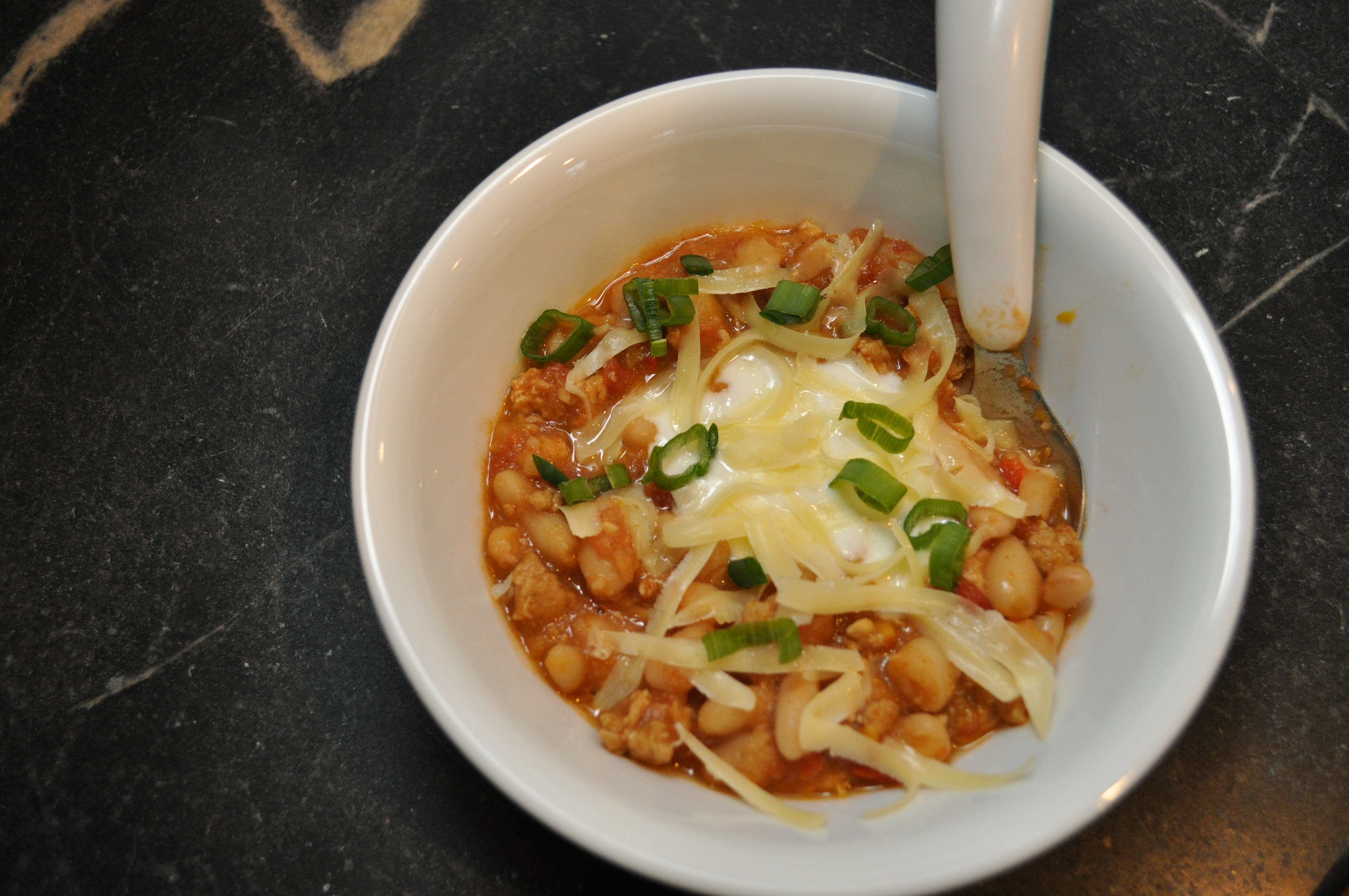 White bean and turkey chili with sweet potatoes and jalapeno
This chili has been very popular with the kiddos for dinner, and will be a new winter staple in our house.  That's my 3 year old's chili – the supermodel in the above pic. It's a sweet, savory, and if you want, slightly spicy take on chili.  Half-way between a traditional chili and a white chili it's not too acidic, which I really enjoy with the traditional savory chili spices (and it's easier on sensitive tummies).
I served mine with a little grated white cheddar cheese, some sliced green onions, and a spoonful of plain yogurt – delish.
Possible adaptations: omit the turkey if you're vegetarian and add an extra can of beans, or a little diced firm tofu.  If you're not into sweet potatoes (my husband isn't), simply omit those – it'll be just as good without them, and a little more traditional.
Recipe:  White Bean and Turkey Chili with Sweet Potatoes and Jalapeno
From: Eat Happy Meal Plan: 2/17/14
Total Prep Time: 45 minutes
Active Time: 30 minutes
Serves:  4 with leftovers
Ingredients
4 ½ cups cooked white beans, such as cannellini, from 1 ½ cups dried or 3 cans
1 lb ground turkey, preferably free-range and pasture-fed
1 jalapeno minced small, seeds removed if you want less spice
2 poblano or green bell peppers, minced (use bell peppers if you want less spice)
4 teaspoons minced garlic, from about 4 cloves
3 teaspoons ground cumin
1 ½ teaspoons ground coriander
1 teaspoon chili powder
4 cups chicken [...]