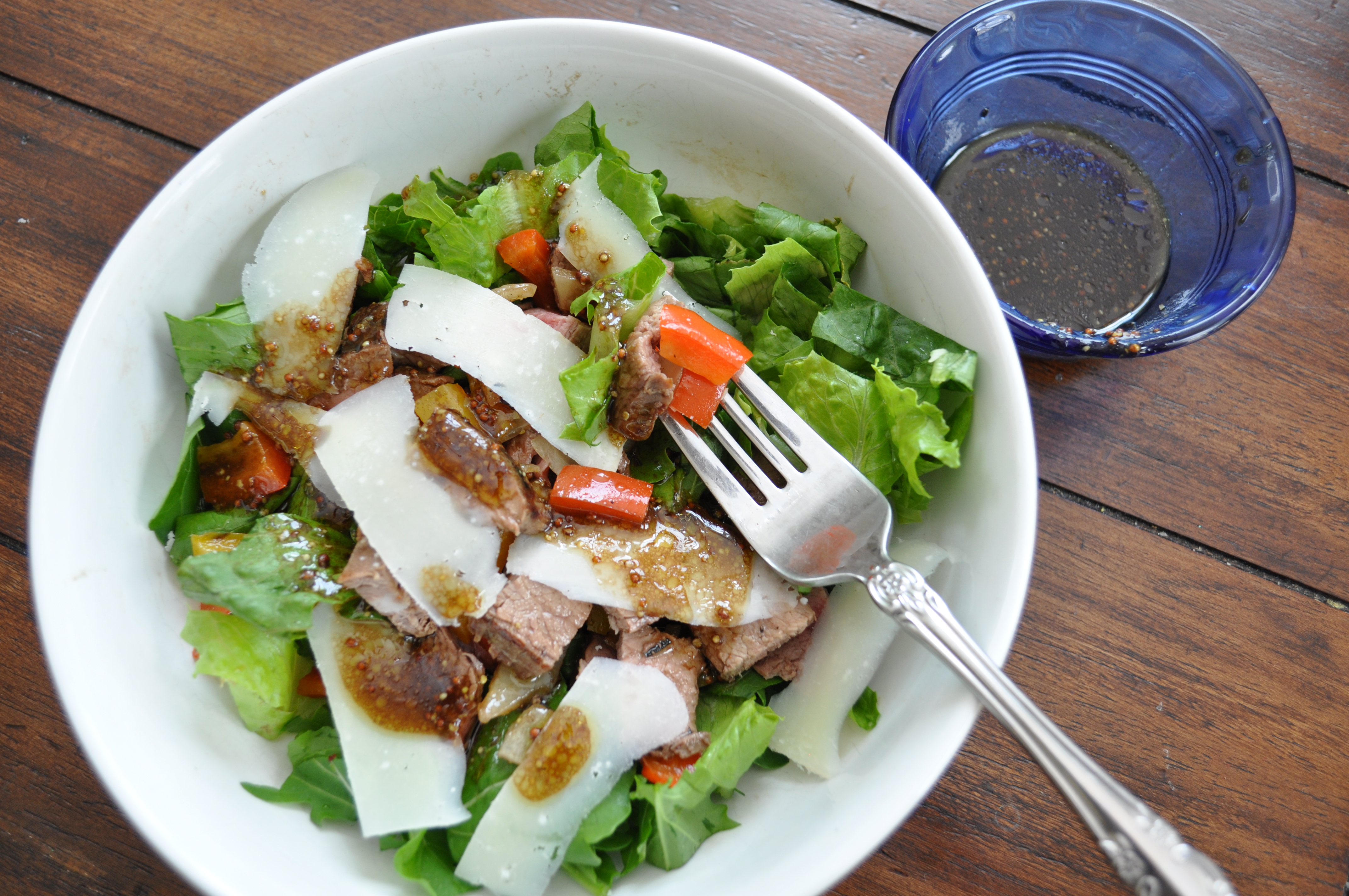 Arugula and Steak Salad with Grilled Onions and Peppers and Shaved Parmesan
You know it's a good food week when your leftover meal is even better than the original meal the leftovers came from – such is the case with this Arugula and Steak Salad. Using leftover Lime-Marinated Steak and grilled onions and peppers from Eat Happy Meal Plan's Lime-Marinated Steak Fajitas I created this super simple and fast salad.
This salad is really well-balanced: bold steak paired with sweet onions and peppers, peppery spiced arugula, and all tied together with a sweet balsamic vinaigrette.  I added a little crunch with some sunflower seeds, and what could be wrong with some shaved Parmesan on top?  (It pairs so nicely with the balsamic vinegar!)
No worries if you don't enjoy steak – simply sub in whatever protein you prefer – tofu, chicken, or even even shrimp will all work with the lime marinade and ultimately result in a great salad.
Arugula Salad with Grilled Steak, Onions and Peppers and Shaved Parmesan
From Eat Happy Meal Plan
Total Prep Time: 20 minutes
Active Time: 20 minutes
Serves:  4
Ingredients
5-7 ounces arugula leaves
1-2 cups leftover grilled steak, chopped into bite-sized pieces
1-2 cups leftover grilled onions and peppers, chopped into bite-sized pieces
2 ounces parmesan or pecorino romano cheese, shaved with a vegetable peeler
1/3 cup sunflower seeds
¼ cup balsamic vinegar
1 tablespoon Dijon or whole-grain mustard
Extra virgin olive oil (EVOO), sea salt, freshly cracked black pepper
Directions
Wash the arugula leaves and spin or pat dry.  Place in individual bowls or a [...]