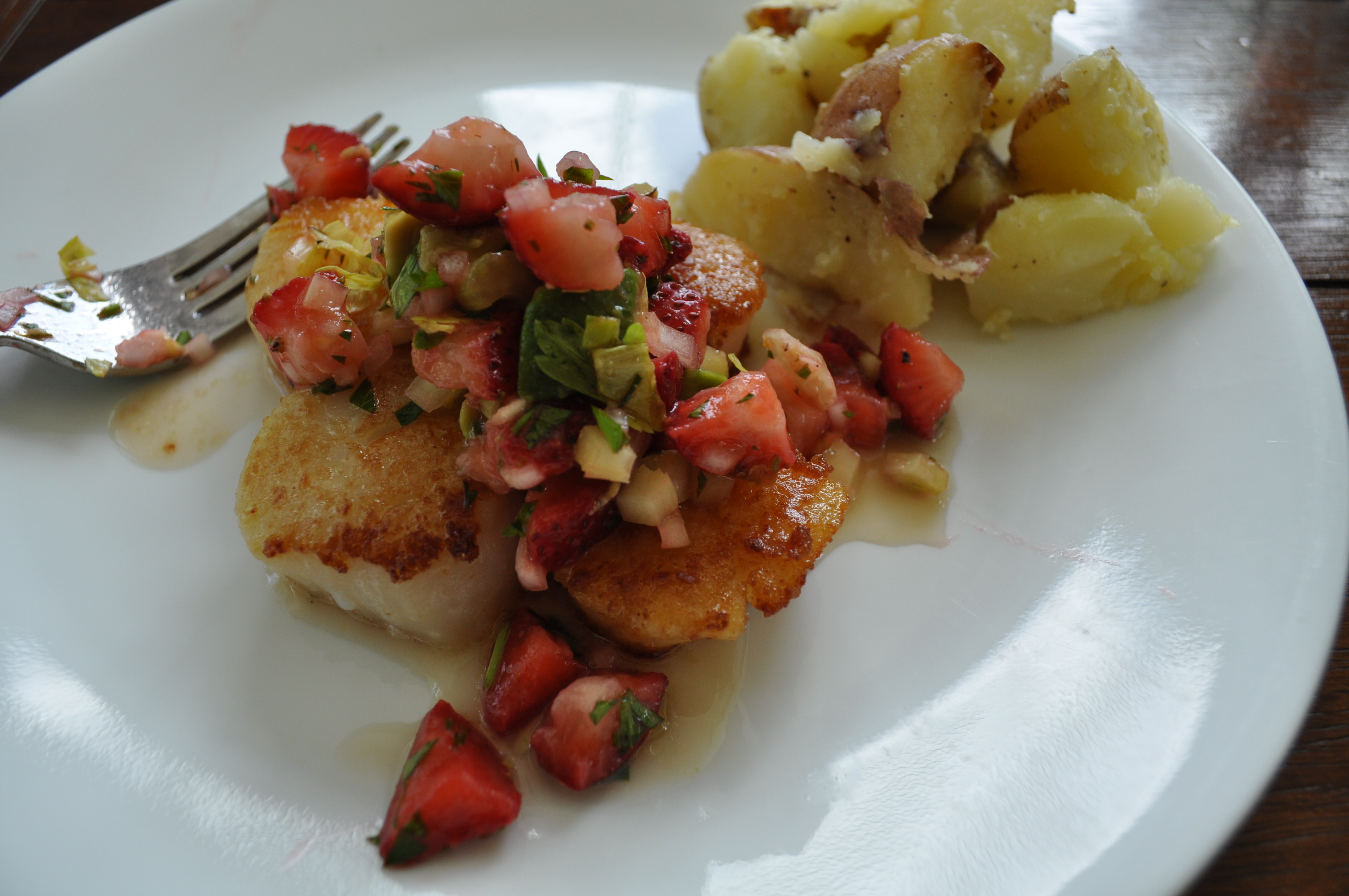 Sauteed Sea Scallops with Strawberry Salsa
Sea scallops are a wonderfully decadent treat, especially when crisped up in some butter and olive oil.  I love ordering scallops at restaurants on a special occasion, but there's really no reason to limit them to a restaurant experience; you can make them at home just as well and they'll be more affordable.
The key to making delicious seafood at home is to start with good seafood, then to not overcook it.  With good-quality seafood I find that it's actually much easier than other proteins like chicken or steak to prepare.  They have so much flavor on their own that a simple salsa on top is enough to make a restaurant-quality dish.  If you can, buy fresh (not frozen) scallops, which will sear well.  Frozen scallops will still be very tasty, but because they hold on to some water, won't form that golden crust.
This recipe is from Eat Happy Meal Plan.  Check out the whole week's menu here.  Sign up and get the other recipes along with the shopping list and weekly planner that will save you time and energy here.
Scallops with Strawberry Celery Salsa
From Eat Happy Meal Plan
Total Prep Time: 30 minutes
Active Time: 25 minutes
Serves: 4
Ingredients
1 lb domestic wild sea scallops, preferably fresh (fresh will sear better than frozen, but frozen will still taste great)
3 cups fresh strawberries, stems removed and cut into ½ inch dice*
2 stalks celery cut into 1/3 inch dice
2 limes, juice and 1 tsp zest reserved
1 tsp honey, raw and local [...]